Every single photo we receive from our clients tells us a story about their holiday. Seeing a smiling face and a beautiful view never fails to brighten our day.
Absolute Escapes have been organising award-winning walking holidays since 2004, and in that time, our wonderful clients have been kind enough to send us some amazing holiday snaps.
We've dug through our vast archive to uncover some of our favourite client photos from 2004 – 2022.
Benjamin Wesenbeeck – Pennine Way
With so much personality in one photo, how could this delightful shot not make the list?
Benjamin van Wesenbeeck took this snap along Britain's oldest and most legendary National Trail, the Pennine Way. This 'bucket list' long-distance walk goes through some of the wildest and most awe-inspiring landscapes in Britain – from the spectacular Peak District to the lovely Scottish Borders.
This photograph is elevated by the fantastic composition and beautiful warm colours. We love to ponder about what these nosey cows are thinking as they peek over the wall at our client. We wonder how Benjamin ever managed to get across the stile!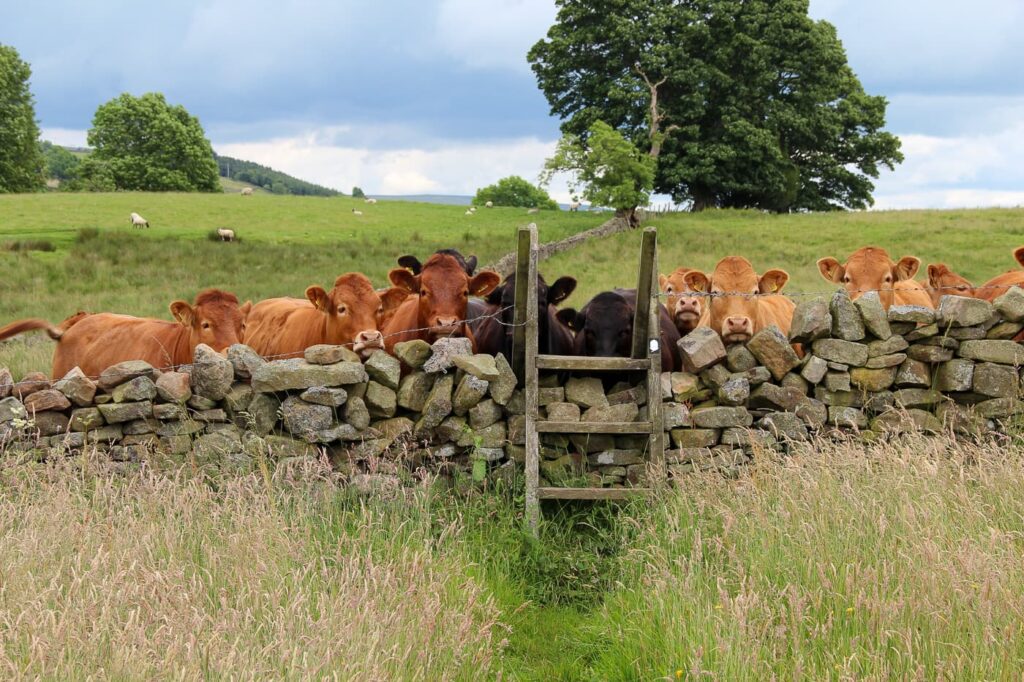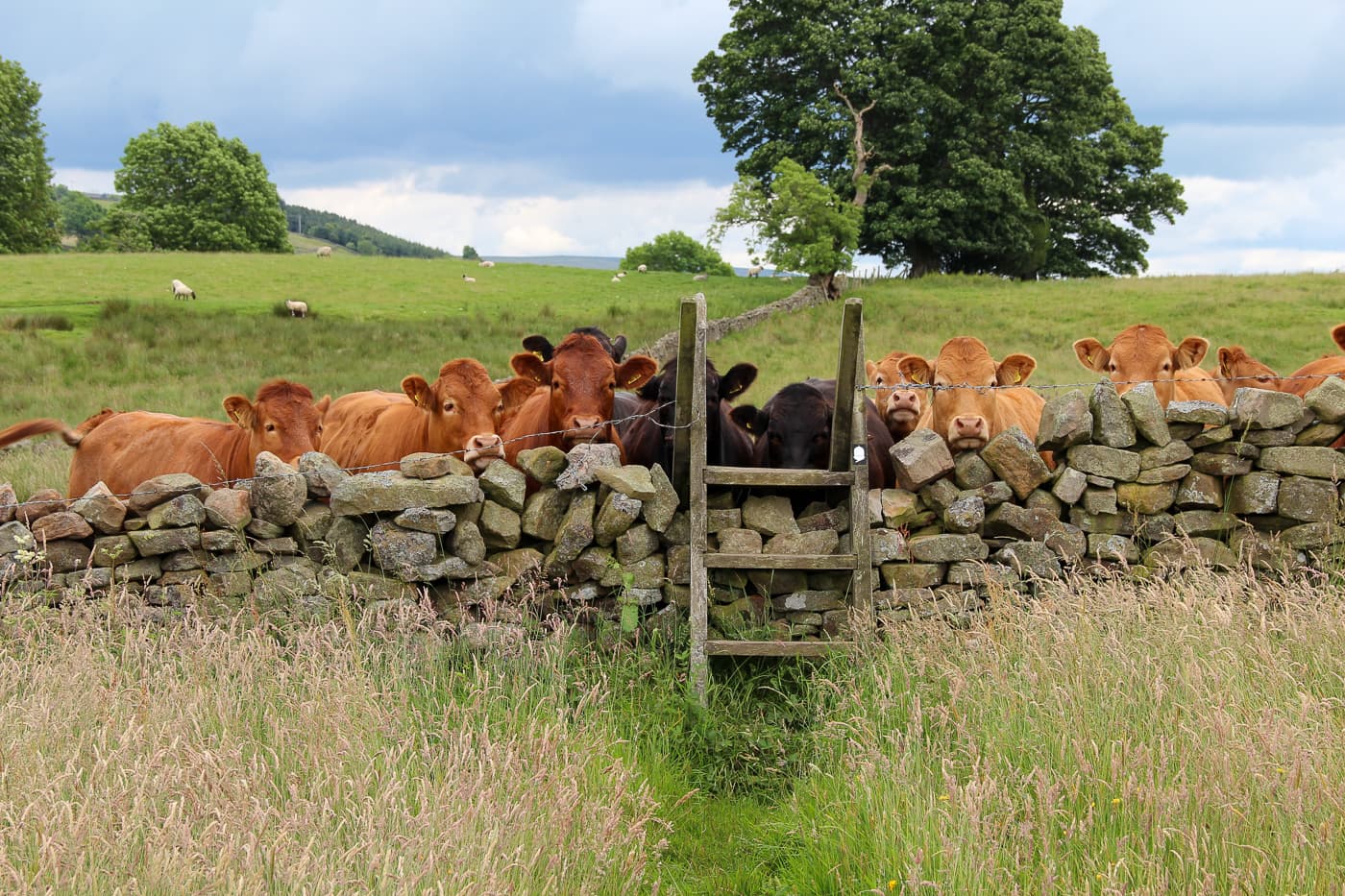 Anne & Peter Backhouse – Cateran Trail
Our clients Anne and Peter Backhouse have been on many walking holidays with us and they always return with a wonderful collection of beautiful photographs. This shot was taken on their exploration of the Cateran Trail – a delightful trail through the picturesque Scottish valleys of eastern Perthshire and Angus.
We love this colourful shot in particular, as it shows how lush and green Scotland's landscape is. Shaped by its climate, Scotland's rain and sunshine make for some very healthy trees, grass and plants.
Iconic in the summer months, the bright gorse bush lights up this photograph with a warm splash of yellow.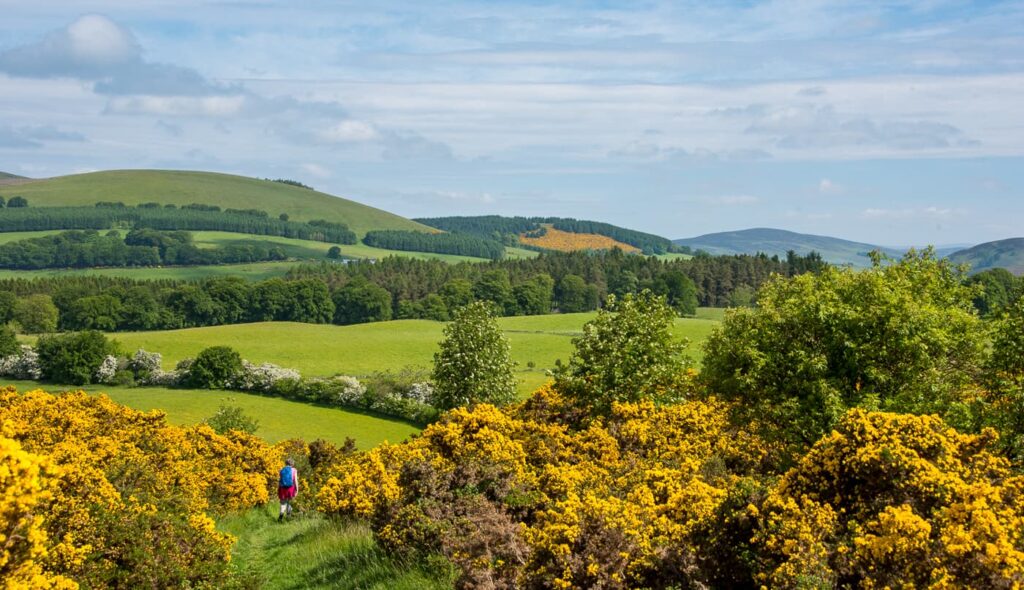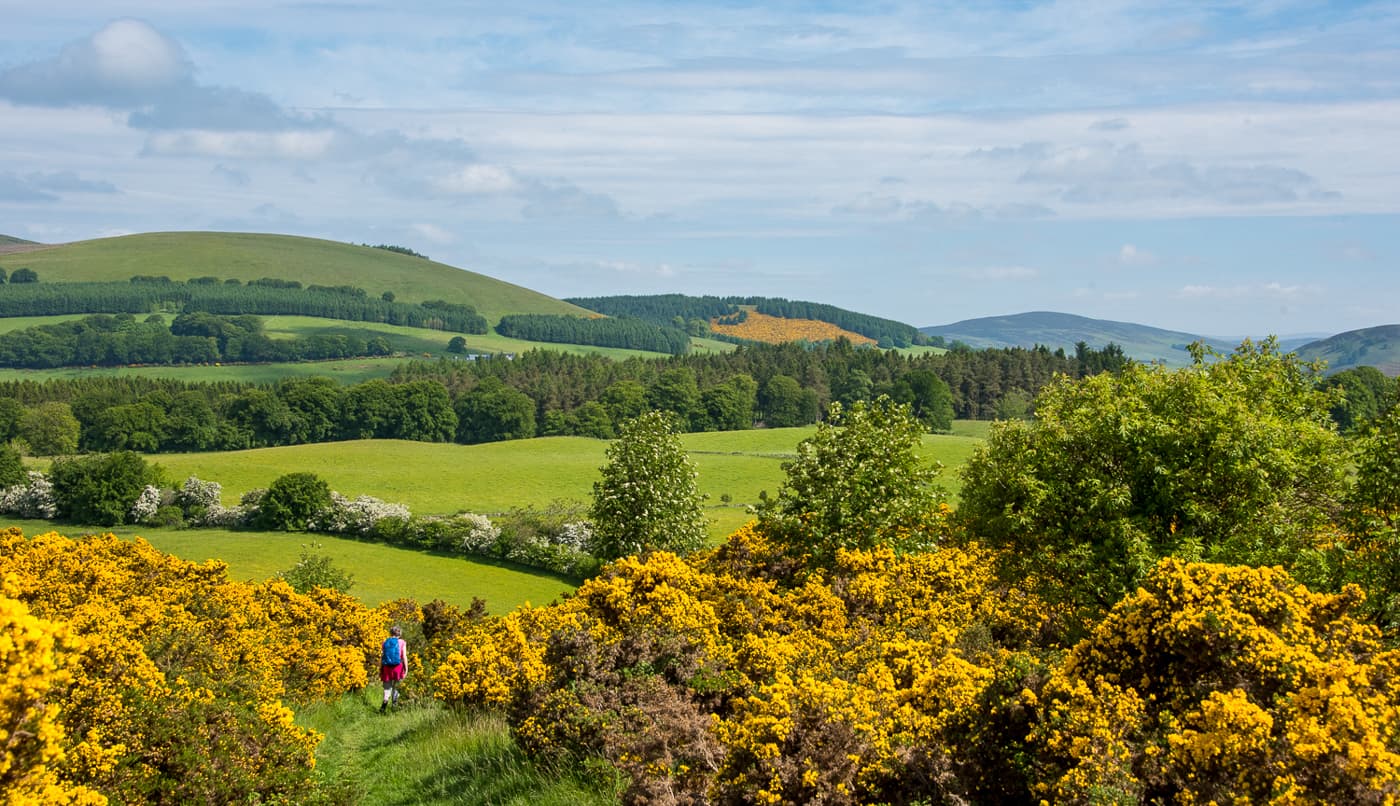 Andrew Bond – Kerry Way
Life as a puffin has never looked so peaceful! The calming blues and soft lighting make for such a relaxing image.
This serene photograph depicts the natural beauty and unhurried pace of life in the remote areas of the Kerry Way, which loops around Ireland's magnificent Iveragh Peninsula.
The trail passes the breathtaking Skellig Islands where there is a wonderful wealth of birdlife. Puffins often arrive on the coast from April to early August and are loved by visitors from all over the world. It looks like the puffin on the right in the photograph is heading over to the magnificent Skellig Michael.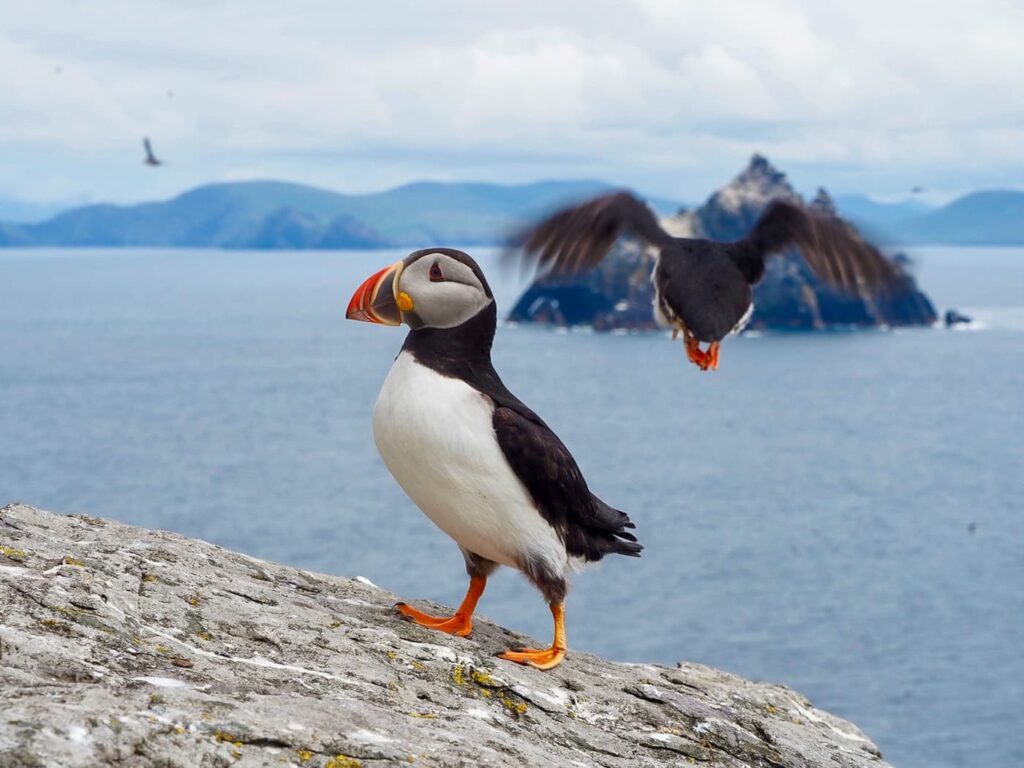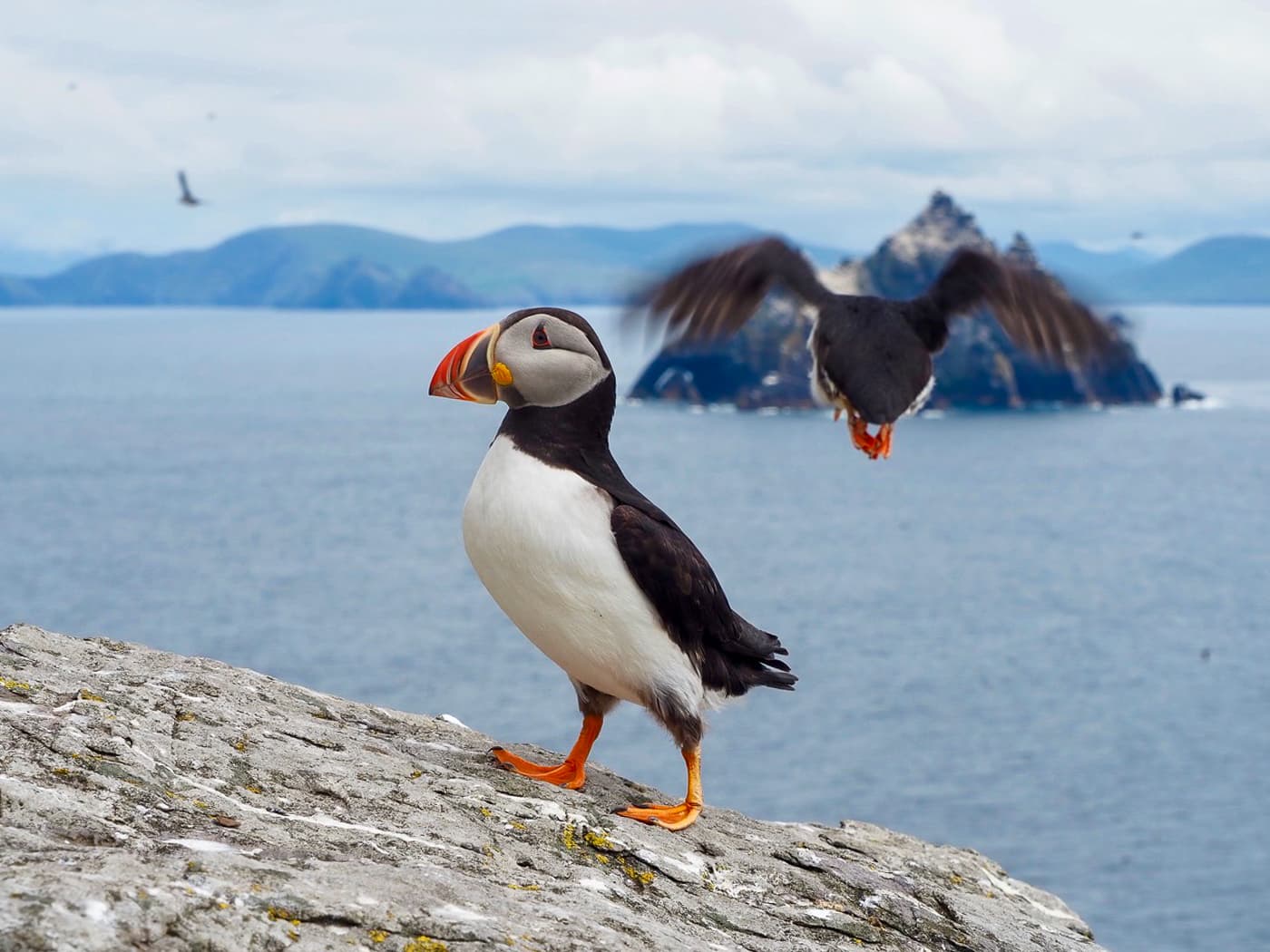 Sam & Geoff Hamilton – West Highland Way
We love this atmospheric shot from our clients Sam and Geoff on the West Highland Way!
This photo was taken from the highest point on the entire trail, the Devil's Staircase, at 550 metres. Despite the ominous name, this former military road is a clear and moderate climb thanks to the zig-zag path.
This climb, leading to the quaint village of Kinlochleven, rewards walkers with stunning views of Buachaille Etive Mòr and the Mamores mountain range, making it a real highlight of the trail.
The looming cloud that casts a shadow on the mountains ahead in this photograph, balanced with the green hue of the grass, makes for a spectacular melancholy image.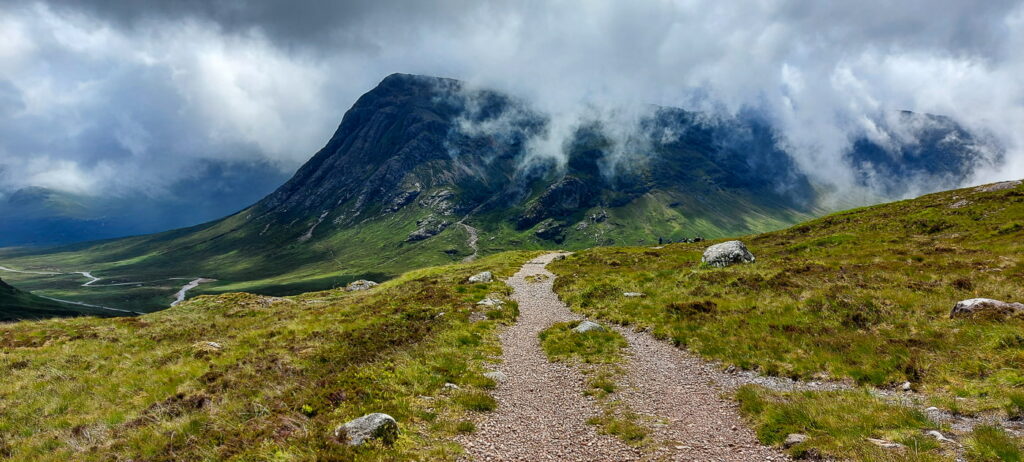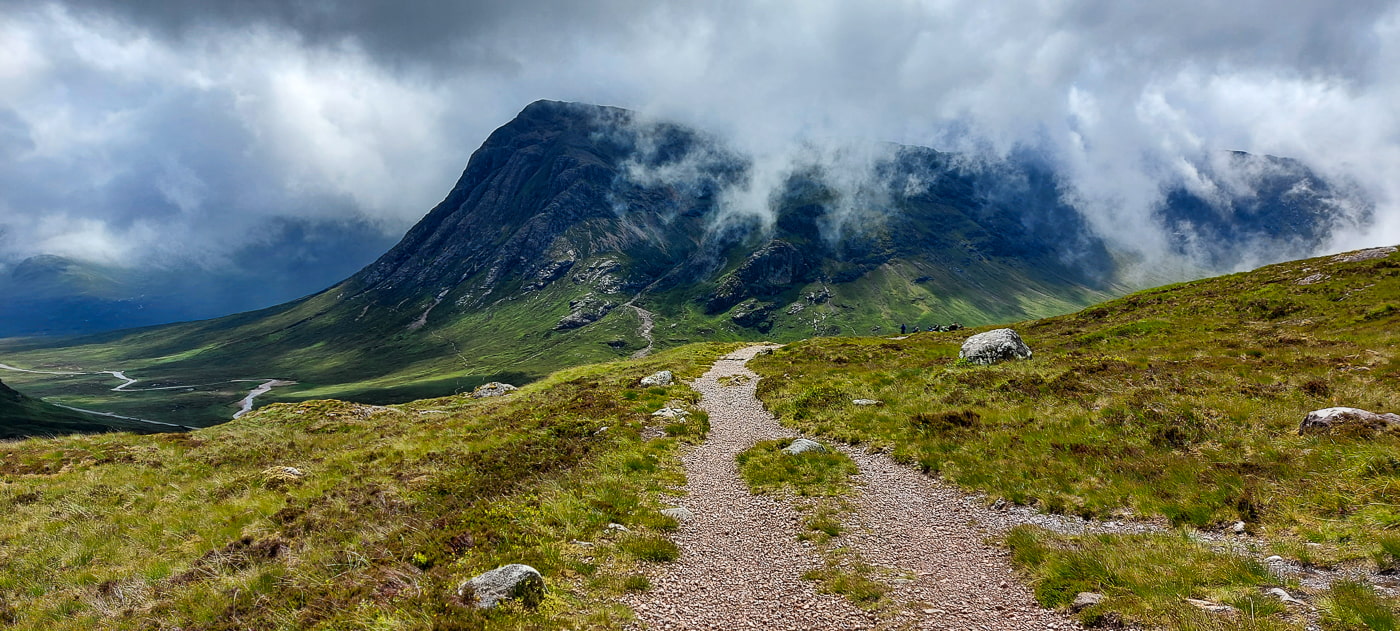 Ray Hind, Sue Mahon and Katrina Le Saux – St Cuthbert's Way
We love to see our clients enjoying their holidays, and Sue and Katrina certainly look like they're having fun in this playful photograph! Here they are peeking over the gate with the spectacular Lindisfarne Castle in the background.
The St Cuthbert's Way is a peaceful 63-mile trail from the Scottish Borders to the Northumberland coast. Beginning at the gates of Melrose Abbey, this trail climbs over the Eildon Hills, along the banks of the River Tweed, and across wild and open moorland. It climbs over the northern part of the Cheviot Hills before crossing the border into England – where Sue and Katrina are pictured here at the end of their walk.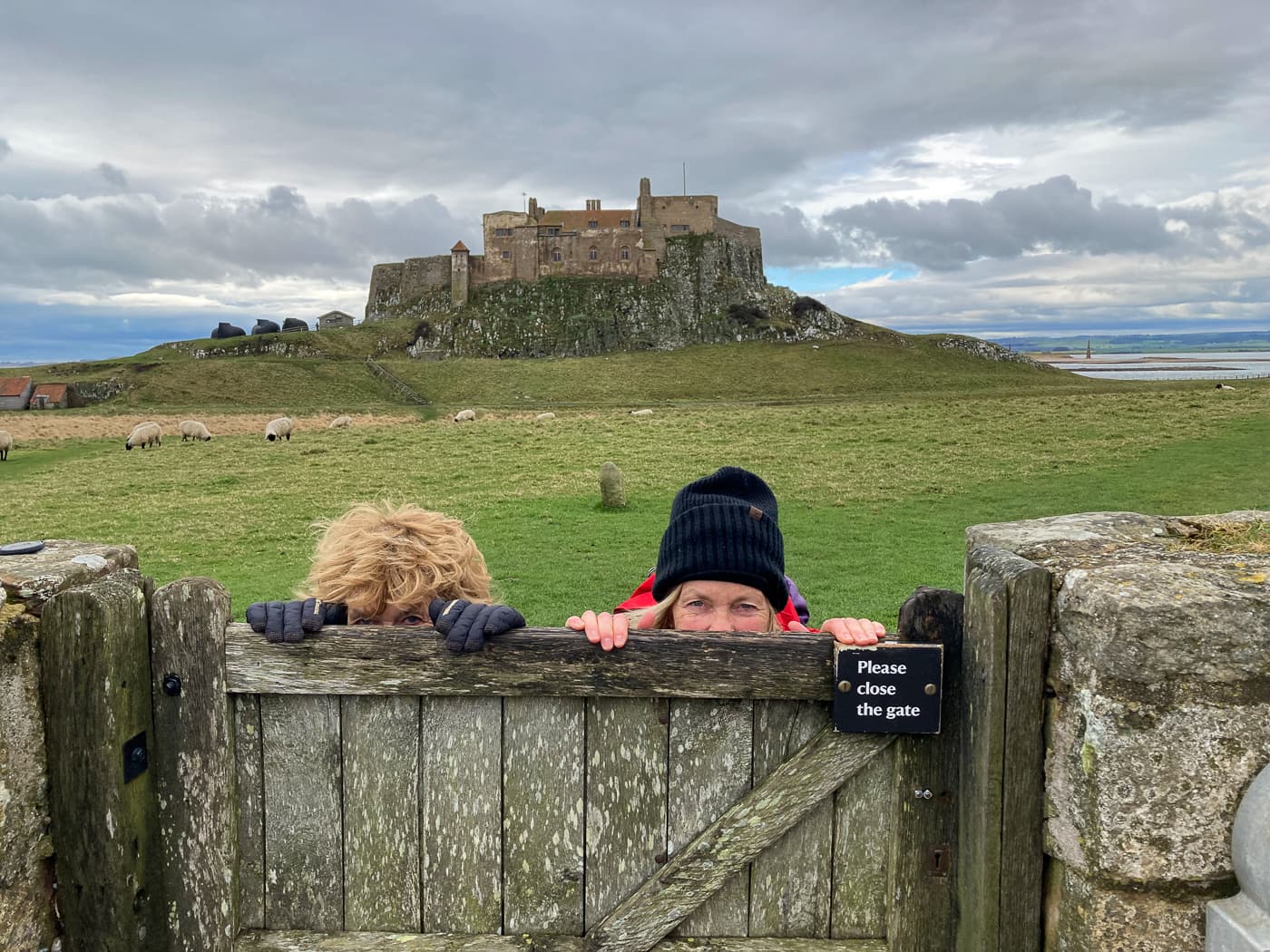 Felix & Juliana Socher – Arran Coastal Way
When you wake up early in the morning and set off on a new adventure, your mind fills with nerves and excitement. We think this stunning photograph by Chrononauts Photography captures this feeling so well.
With the soft early morning light from the sun peeking over the horizon, this photo is reminiscent of that moment when the ferry pulls into port on a peaceful morning. In this case, Felix and Juliana's adventure took them to the wonderful Isle of Arran to walk the Arran Coastal Way.
Arran is home to a wonderful range of landscapes, with mountainous scenery in the north and rolling hills and pastures in the south. The Arran Coastal Way guides you past the island's stunning coastline, sandy beaches, and rugged cliffs.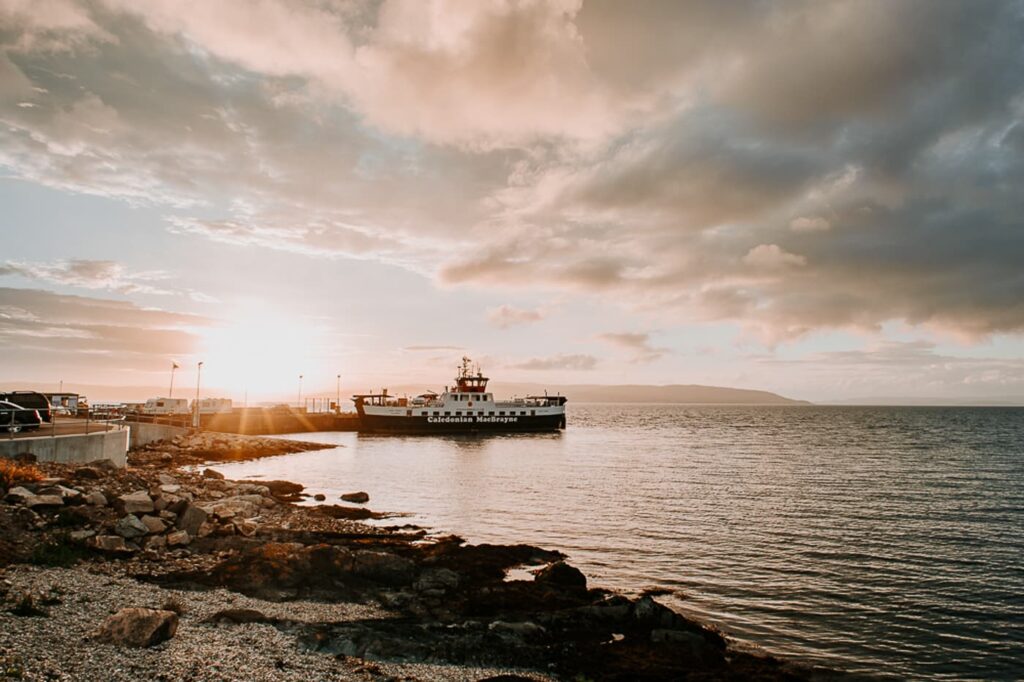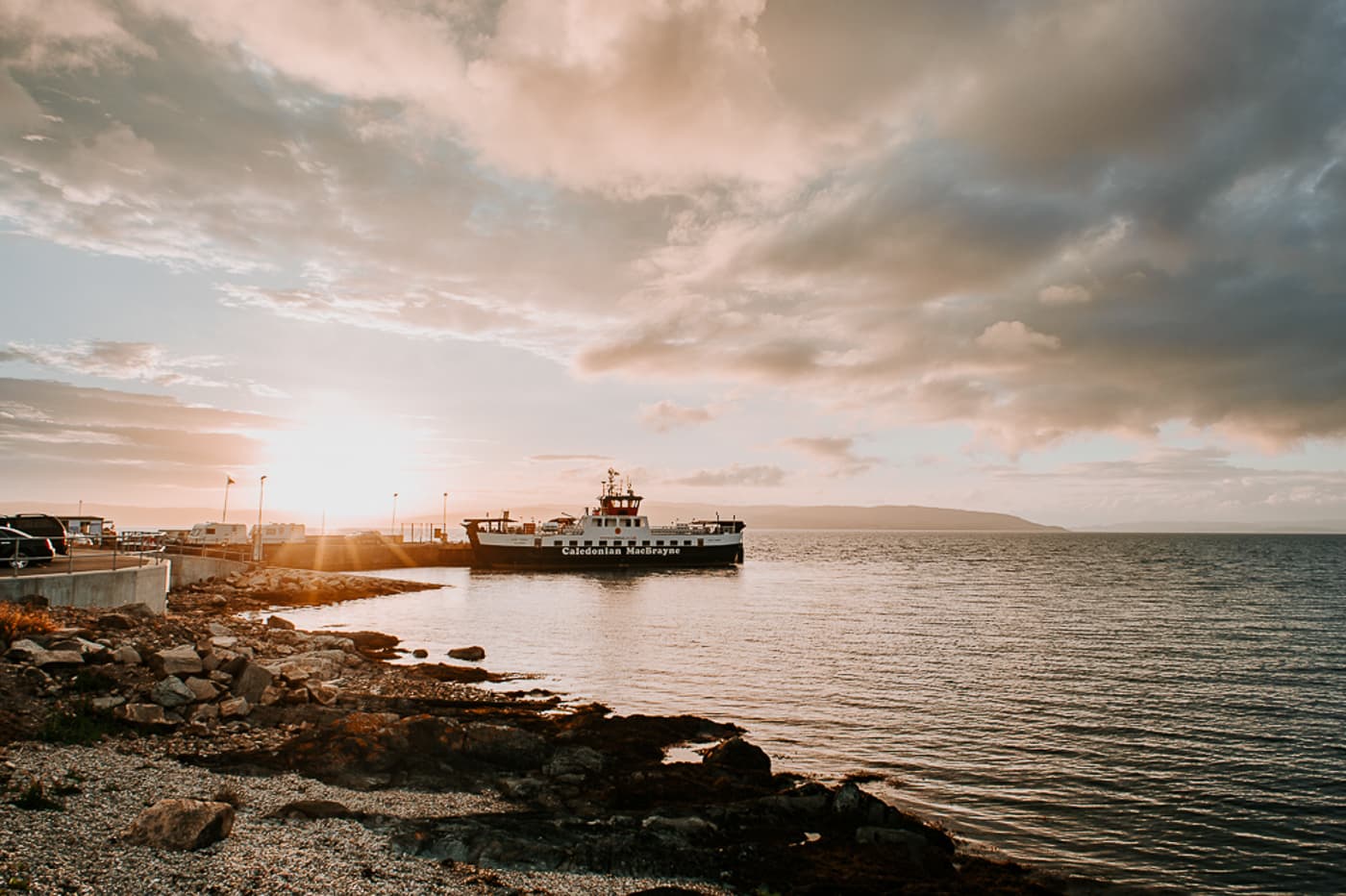 Rahel Berger – West Highland Way
This photo never fails to make us smile – imagine if we all had a spring in our step like Rahel when out walking! Pictured by the iconic West Highland Way sign with Buachaille Etive Mòr in the distance, Rahel took a fantastic creative angle to this well-photographed spot.
This memorable section of the trail passes through some of the finest scenery in the Highlands. From Tyndrum to Kingshouse, you'll climb up past Loch Tulla then across the wildness of Rannoch Moor to Glencoe.
With the iconic Kingshouse Hotel and stunning Buachaille Etive Mòr nearby, it's hard not to be as excited as Rahel is in this photograph!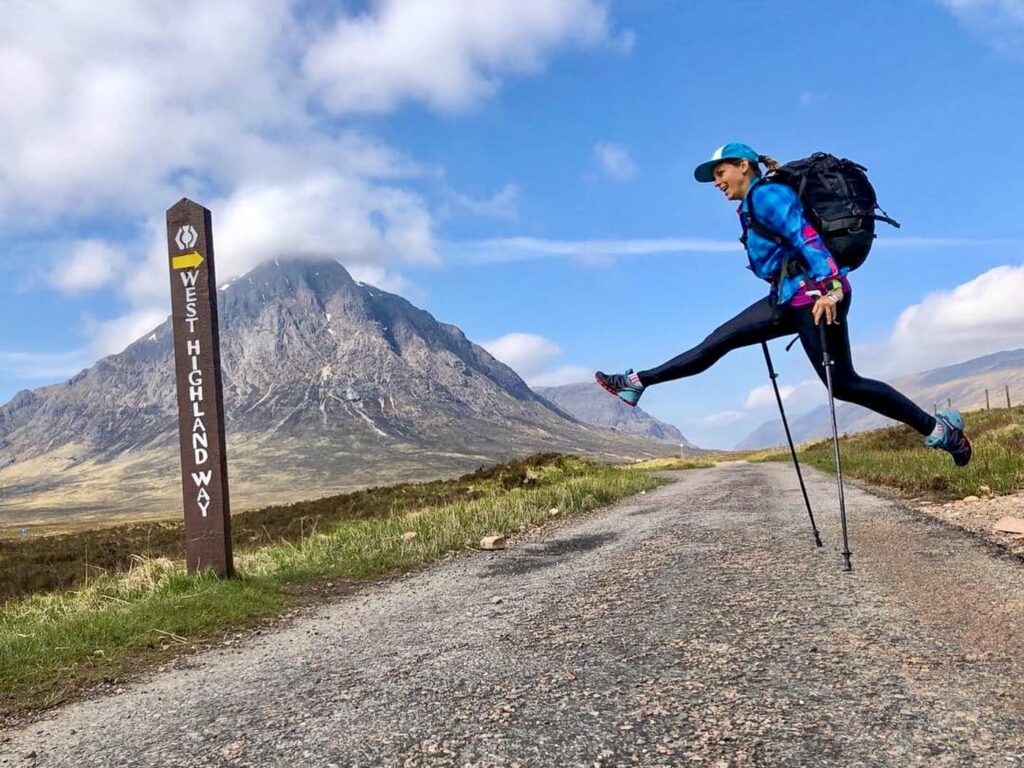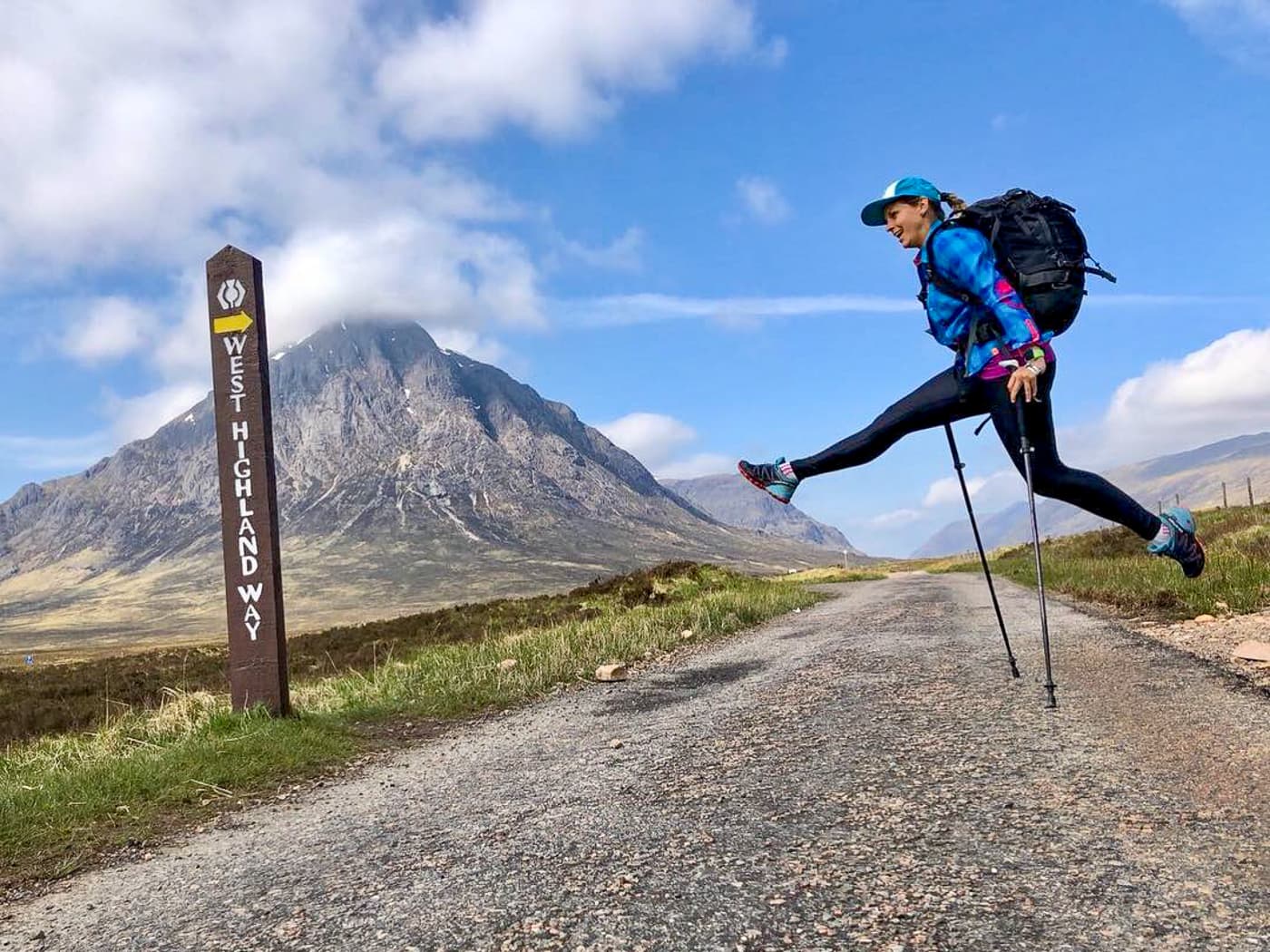 Andrew & Sarah Miller – South West Coast Path
Pictured here is one of Cornwall's most distinctive coastal flowers; thrift. Also known as sea pink, these flowers are a common sight along the Cornish coast from April to July when they're in bloom.
We love this photo as Sarah and Andrew have represented the bright colours of the South West Coast Path beautifully. With deep blue sea, sharp green grass, blush pink flowers and clear blue skies – it shows that this trail truly is the most spectacular coastal walk in Britain.
From Minehead in Somerset, along the coasts of Devon and Cornwall, to Poole in Dorset, this hiking trail is packed with breathtaking scenery, picturesque fishing villages, and amazing sandy beaches.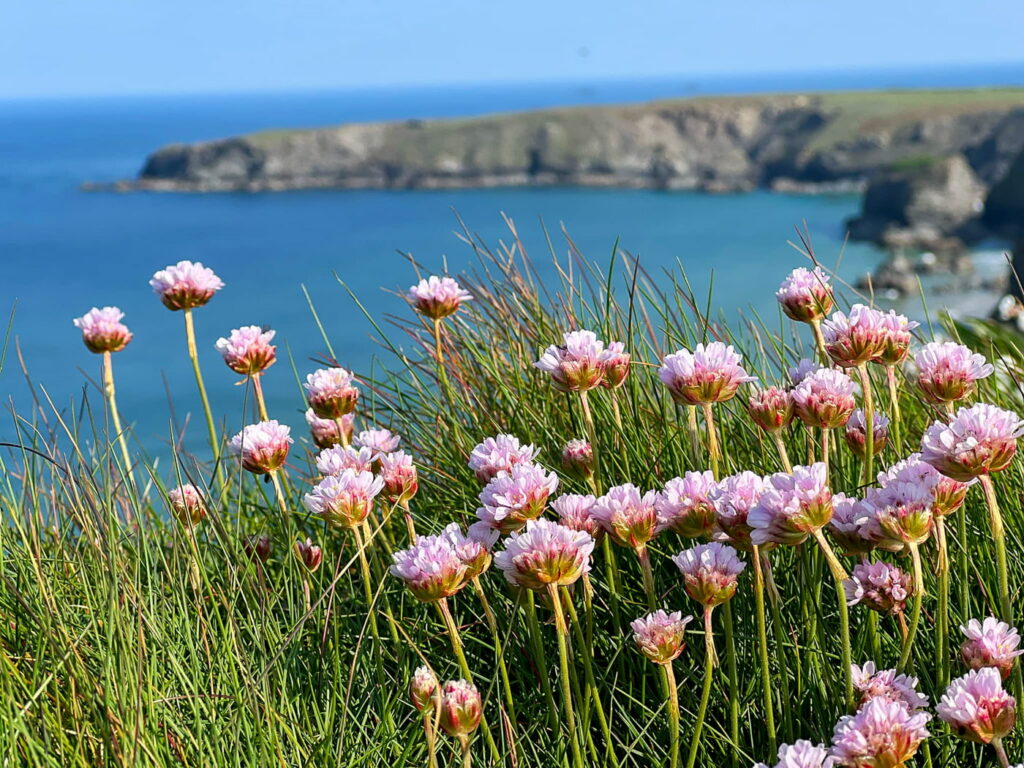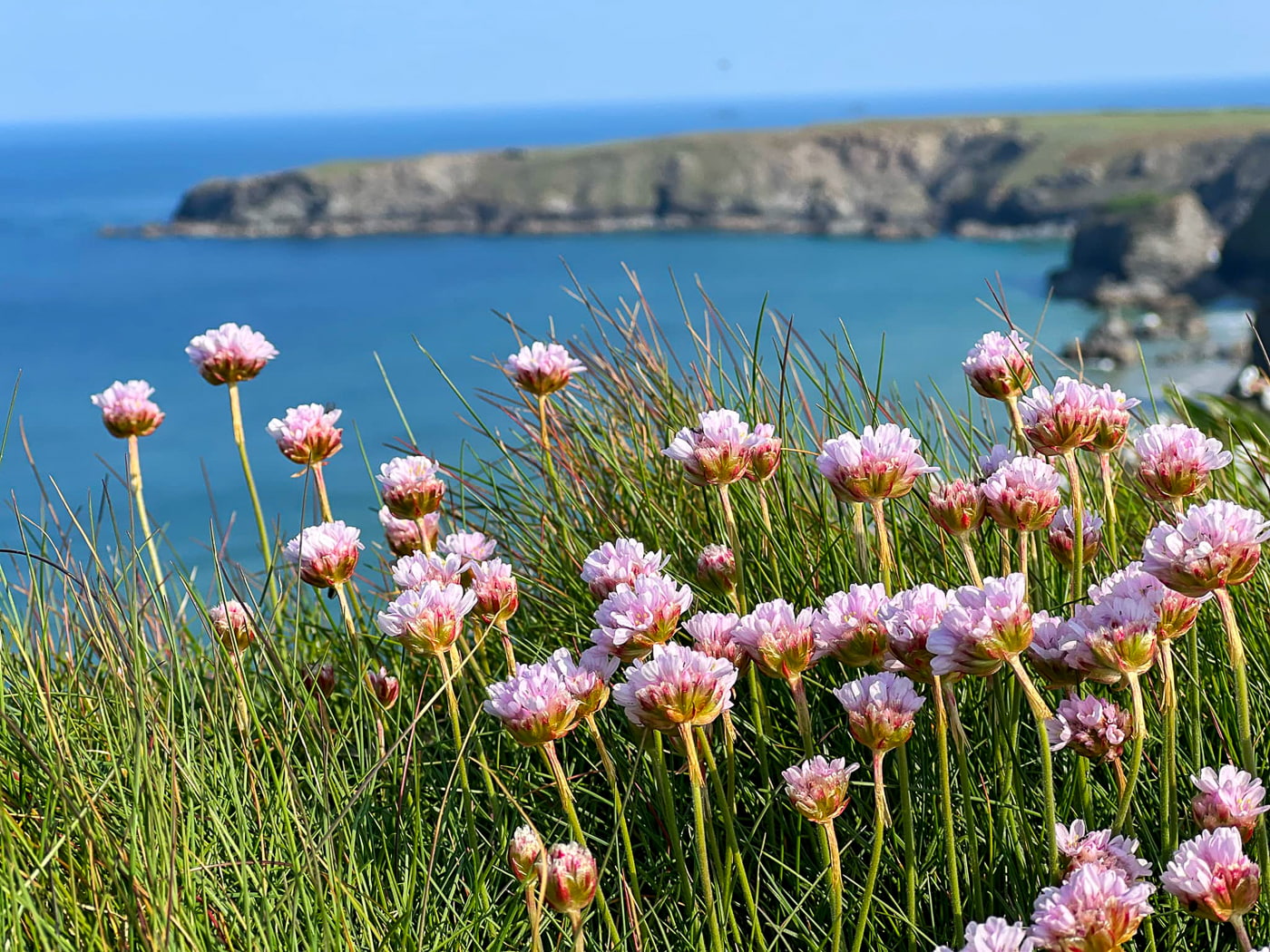 Nigel Wright – Isle of Wight Coastal Path
This stunning photo looks like a scene out of a film! The peaceful atmosphere as the sun sets casts an orange glow on the departing Wightlink ferry.
Yarmouth Pier, where this photo was captured, makes for a delightful stroll by the sea with magnificent views. It is situated within the picturesque town of Yarmouth, one of the overnight stops on the Isle of Wight Coastal Path.
The town itself is a lovely place to relax after a long day of walking, with a delightful high street, charming houses, independent shops and of course, the iconic pier.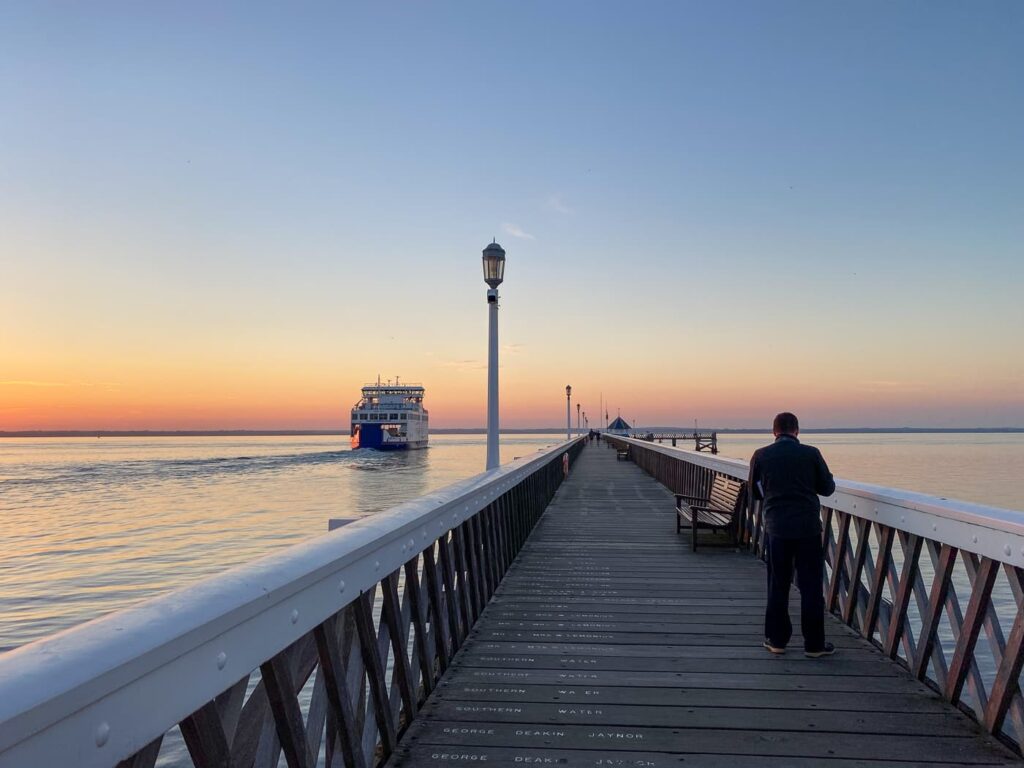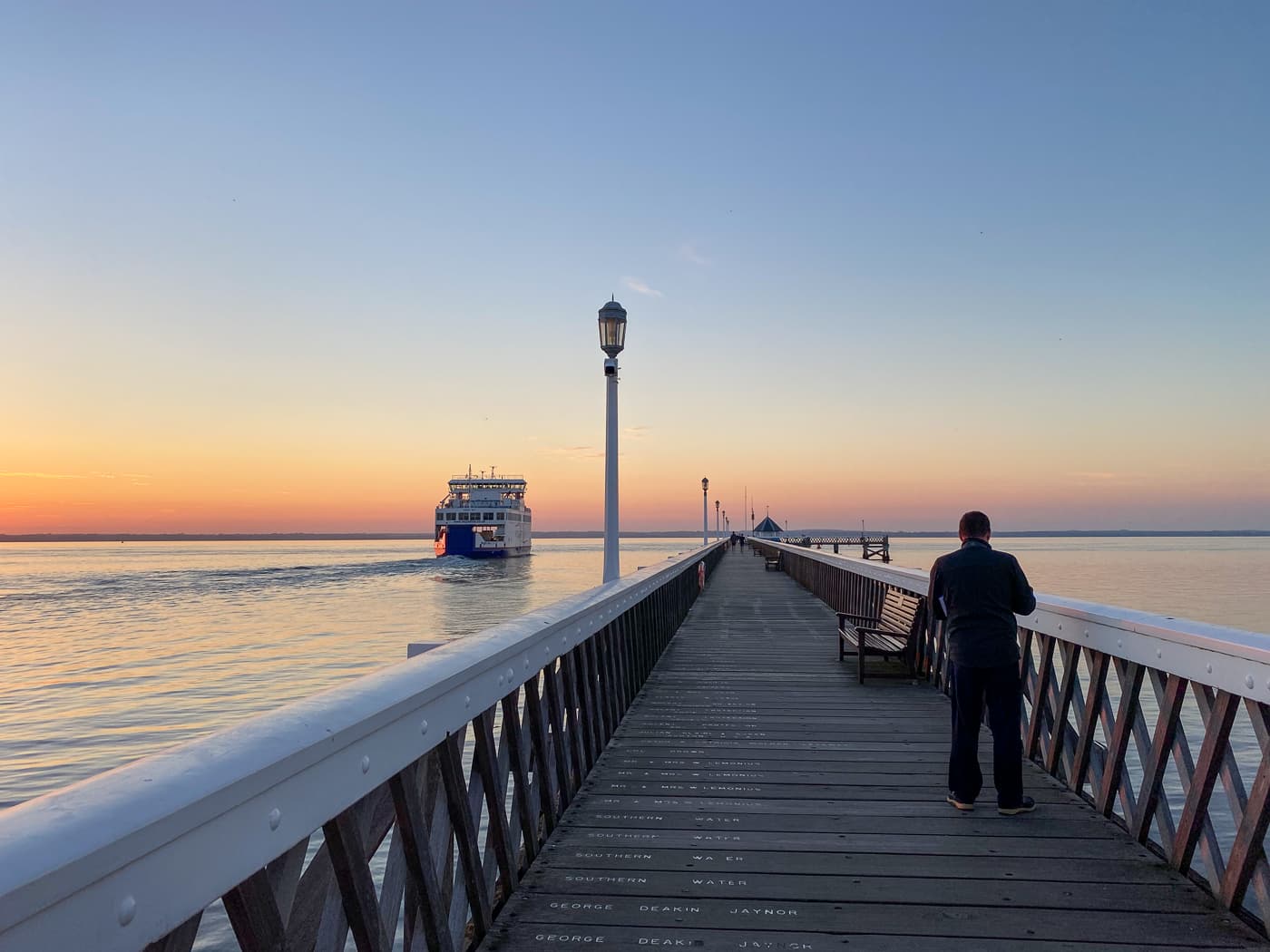 Désirée Ventura – John Muir Way
Take a seat, admire the view and realise how far you've come. This photo by Desiree is so reminiscent of that moment on the trail when you treat yourself to a little rest to take in your surroundings.
The John Muir Way is a well-loved Scottish coast-to-coast trail which stretches 134 miles from Helensburgh to Dunbar. A walk of contrasts, it meanders through stunning beaches, peaceful canals, rolling farmland and picturesque woodland.
The earthy colours give this shot a wonderfully cosy feel that represents this forest section of the John Muir Way well.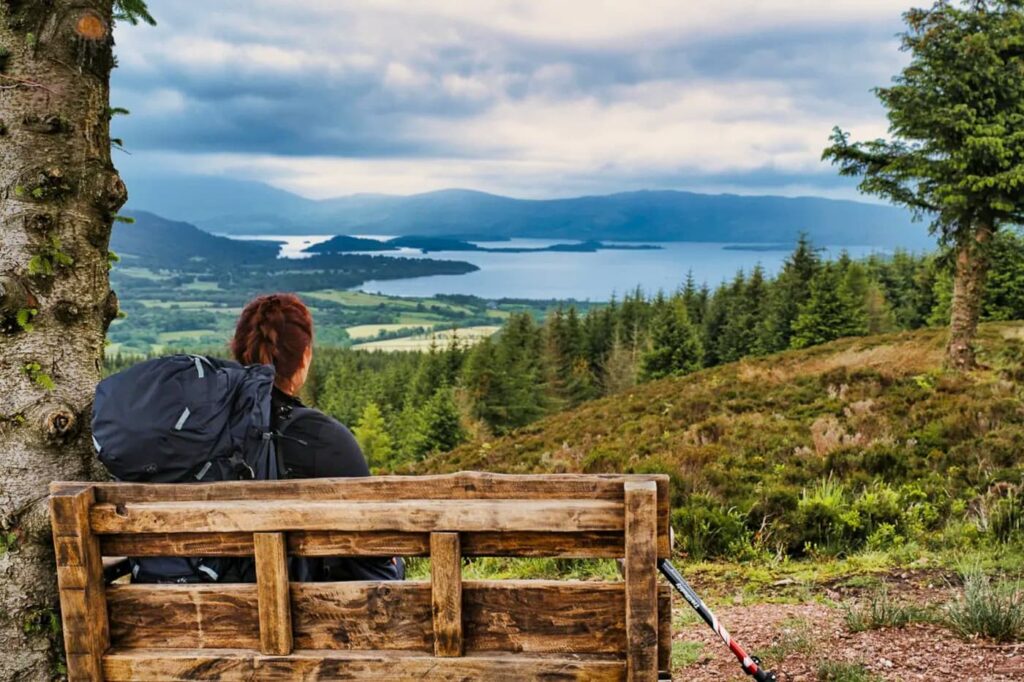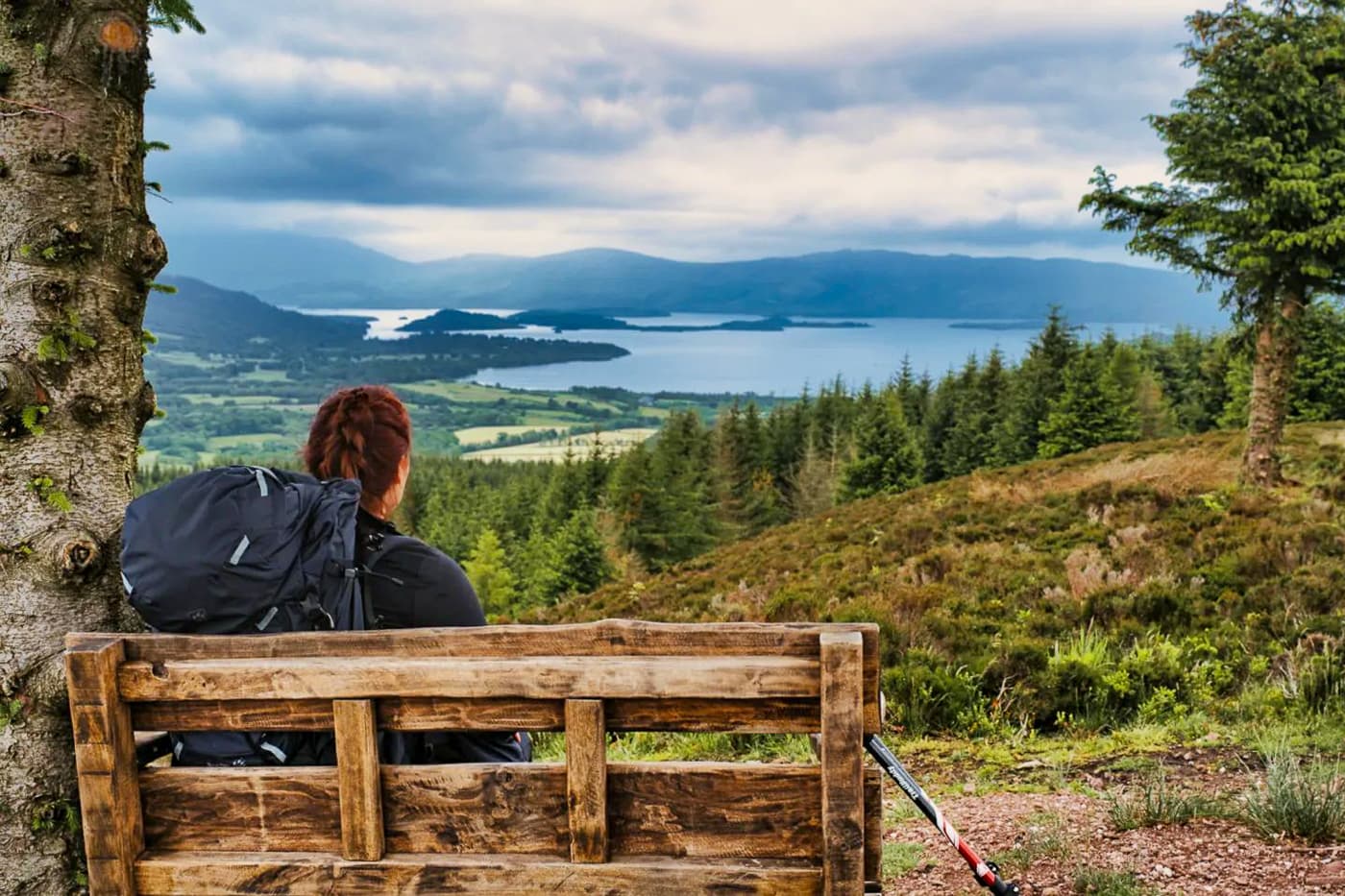 Capture Your Own Stunning Shots
Fancy witnessing beautiful scenes like these for yourself? With so many spectacular views across the UK & Ireland, your next favourite photo is just an enquiry away. Get in touch with one of our knowledgeable Travel Specialists who will be delighted to help you plan your next adventure.
We love to see our client's holiday snaps and each photo we receive is entered into our annual photo competition. Follow us on social media to see more of our favourite client photos that we regularly share on Instagram, Twitter and Facebook.
Happy snapping!
Melanie Grandidge