For a relatively small country, Scotland sometimes seems huge.
There are countless charming villages and historic castles to visit, numerous remote islands and pretty harbours to explore, plentiful hidden valleys and heather-clad hills to discover… One could spend a lifetime touring Scotland and there still would be a myriad of hidden treasures to unearth.
Even the not-so-hidden treasures are stunning! You will have surely heard of historic Edinburgh, our majestic capital city and host to the Fringe – the largest arts festival in the world­­. Loch Ness and resident Nessie have made headlines for centuries, while the Isle of Skye has had recent recognition and subsequent buzz, due to its outstandingly magical scenery. And beautiful St Andrews, sitting on the east coast of Fife, is well known as the home of golf.
Yet, the list of wonderful places to visit in Scotland is never-ending and with more than 15 years' experience arranging award-winning self-drive holidays in Scotland, Absolute Escapes know a thing or two about the best places to visit.
Here are some of our favourite locations which remain undiscovered by many visitors, but which should make it to the top of your list for a trip to Scotland.
Jura
One of Scotland's wildest islands is Jura in the Inner Hebrides, with a population of around 200 people and over 5,000 deer. The main village, Craighouse, has but one road, one hotel, one pub, one cafe, one shop and a whisky distillery.
As discovered by George Orwell, who wrote his famous novel 1984 on the island, Jura is an ideal escape for some quiet and solitude. However, there are various activities on the island for those who are more adventurous. A challenging climb up the Paps of Jura will offer incredible views of the wild island and the coast. There are also RIB boat trips available from Craighouse, where you could see the Corryvreckan whirlpool or even spot some dolphins and orca whales!
A taste of Jura whisky at the distillery is the highlight for many visitors. But there is a fun new addition to the island: Lussa Gin, a small craft gin distillery run in the remote village of Ardlussa. Lussa Gin has been crafted on the island by three local friends, using a selection of locally grown botanicals.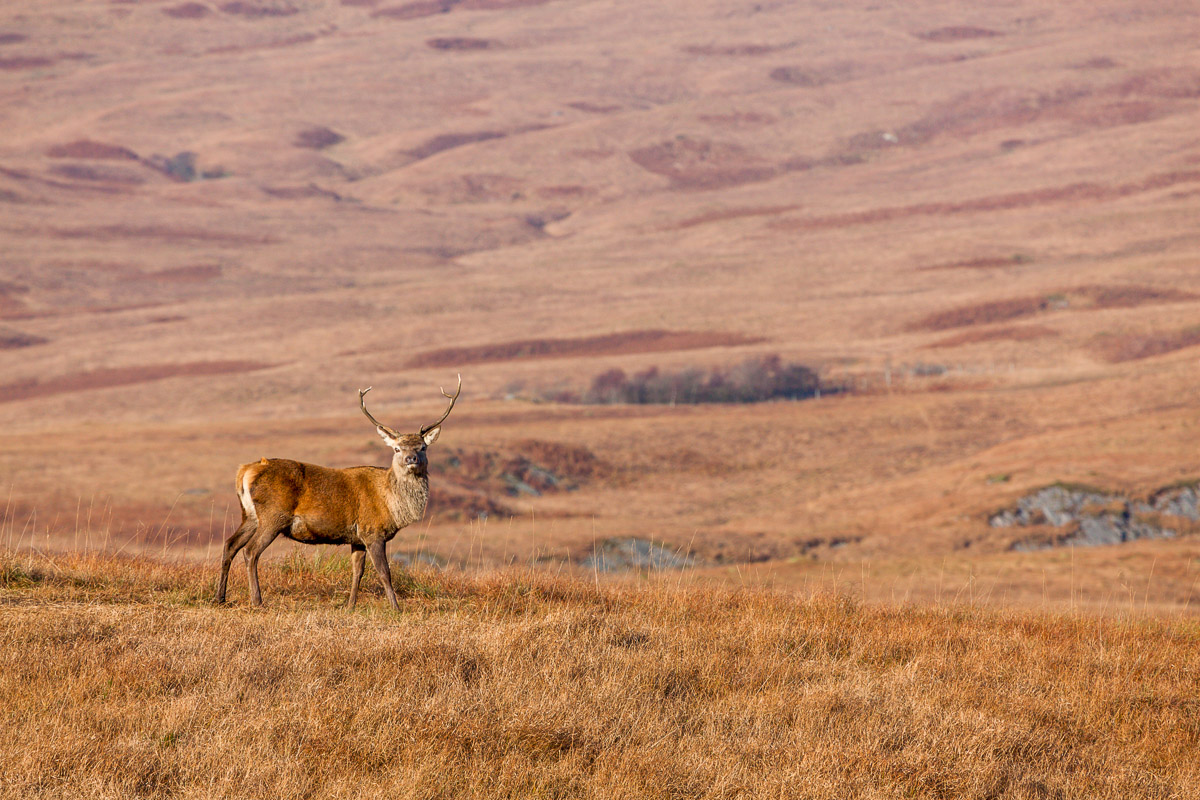 Ballater & Royal Deeside
The village of Ballater sits in the heart of Royal Deeside in Scotland's scenic north east. This was a popular destination during Victorian times, with its most famous tourist being Queen Victoria herself. Continuing her great-great-grandmother's tradition, Queen Elizabeth still spends her August holidays in Balmoral Castle, located just a few miles from Ballater.
With the sound of river Dee in the background and its pretty pepper pot turrets towering the forest, Balmoral is certainly a sight to take one's breath away. Visitors can spend the day wandering around the castle grounds, taking in the variety of smells from its wonderful lush gardens, and marvelling at the stunning Scots Baronial style architecture.
Balmoral is just one example of the incredible collection of romantic Medieval ruins and grand country houses that incorporate the Aberdeenshire Castle Trail. From charismatic structures such as Drum Castle and Crathes Castle to grand estates, this area teems with history. Bordered by the breathtaking slopes of the Cairngorms National Park, Ballater is not just a great base from which to explore the Castle Trail, but also to enjoy the great outdoors.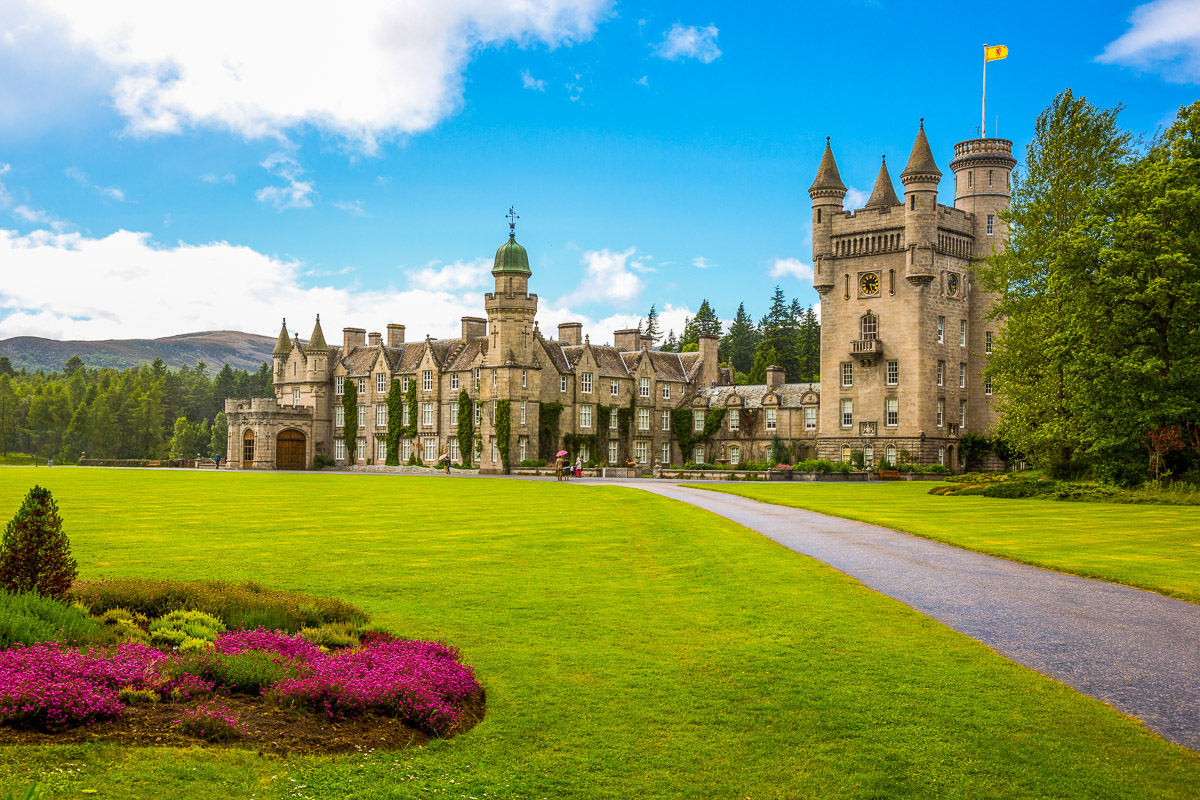 Plockton
Located in a quiet and sheltered bay just outside the Isle of Skye sits Plockton – 'The Jewel of the Highlands'. This small coastal village overlooks Loch Carron and the harbour is lined with charming cottages and palm trees. Beyond, views of the islands and the stunning mountains of Wester Ross create an idyllic background.
Plockton is a place to relax and take in the fresh sea air. There are various pubs and restaurants in the village, such as the Plockton Hotel, serving the freshest of local seafood.
In summer, you could go on a wildlife adventure aboard the Sula Mhor, operated by Calum's Seal Trips. Or you might prefer to hire sea kayaks and admire incredible views of Skye, Applecross and the Torridon mountains, and explore hidden coral beaches. At other times of the year, Plockton could be the perfect base to visit the Isle of Skye as a day trip, avoiding the Portree crowds at the end of the day. Furthermore, visitors could treat themselves by staying at the stunning Duncraig Castle Hotel, due to re-open in March 2021 after a major refurbishment.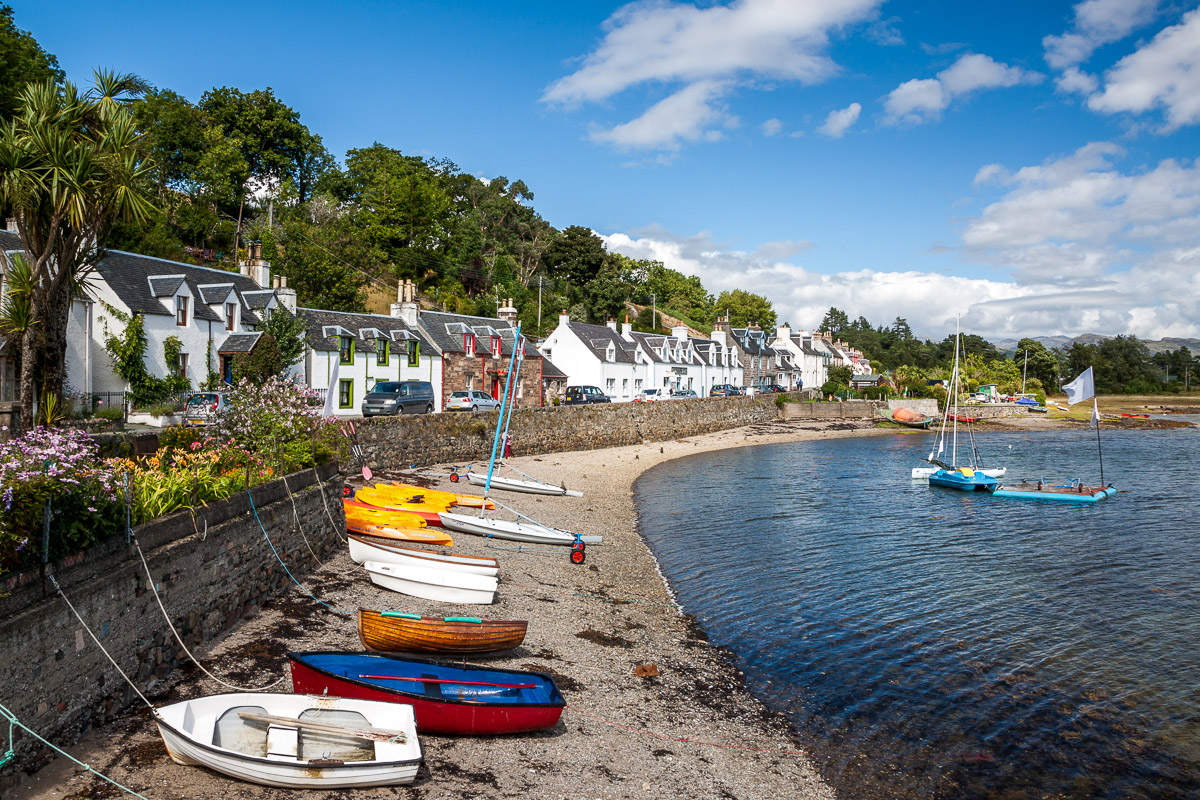 Achmelvich Bay
The introduction of the North Coast 500 driving route has been incredibly popular with worldwide visitors, who now flock north to experience remote landscapes and authentic Highland communities. The North Coast 500 incorporates 6 incredible regions, including Sutherland, known as Europe's "last great wilderness."
North West Sutherland features unspoiled, natural landscapes, with spectacular mountain ranges and idyllic white-sand beaches. Achmelvich Beach is one of these beaches, hiding in a remote corner on the western coastline; it is difficult to reach and there isn't much else besides a youth hostel and a campsite. And yet, it is gloriously scenic and unquestionably worth a trip. If it wasn't for the icy wind buffeting your face, you could be in the Caribbean. With pristine white sands and deep turquoise blue water, this is a majestic haven of solitude.
Nearby, visitors can explore Hermit's Castle – the smallest castle in Europe – or go on a hillwalking adventure atop Suilven.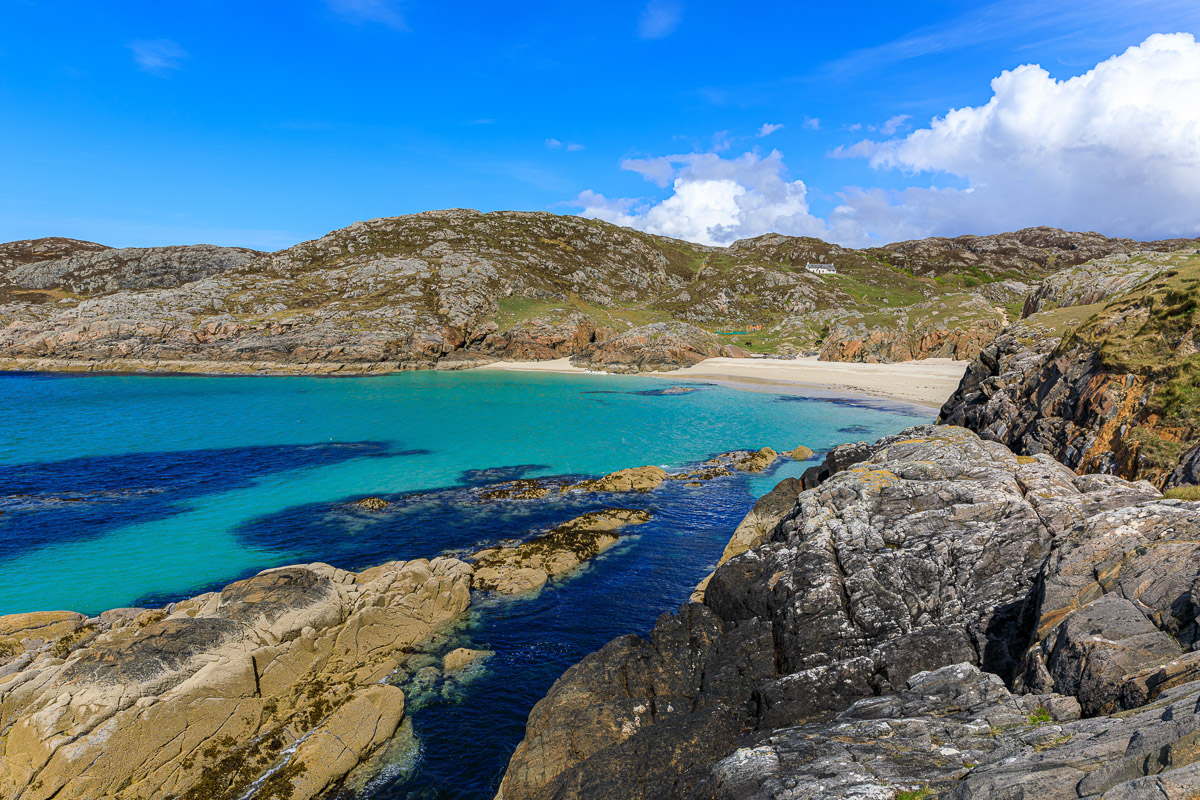 East Neuk of Fife
Each year, flocks of visitors visit St Andrews, the home of golf and of the oldest of the four ancient universities of Scotland. While St Andrews is certainly worth a visit, many visitors miss out on the picturesque fishing villages and sandy beaches that make up the rugged coastline of the East Neuk of Fife. Neuk is a Scots word for nook or corner, and the delightful villages of Crail, Pittenweem, St Monans, Anstruther, Elie and Lower Largo make up this charming wee neuk.
Featuring medieval Dutch-style architecture and cobblestone streets, these colourful villages are lined with lovely harbours, art galleries, seafood restaurants, and cosy pubs. The Anstruther Fish Bar has been previously voted to serve the best Fish and Chips in the UK. If this wasn't reason enough to visit, there are also boat trips to the Isle of May, a National Nature Reserve and home to the UK's largest puffin colony.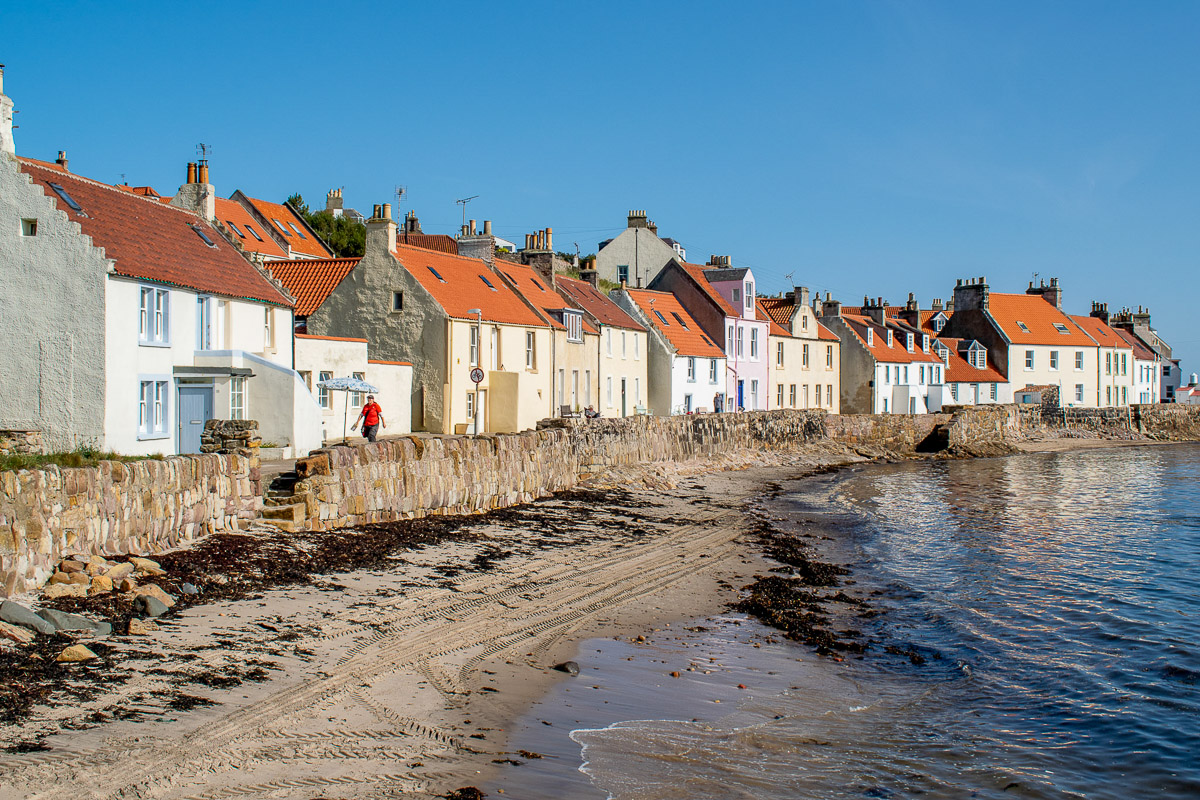 Shetland
The Shetland Isles, the northernmost of the inhabited British Isles, became part of Scotland in the 15th century, having previously belonged to Denmark. Centuries later, there is still a distinctive Nordic feel to this archipelago of remote islands, which are actually located closer to Norway than mainland Scotland. Surrounded by the wild Atlantic Ocean, the landscape is that of rugged sea cliffs and incredibly green and tree-less pastures.
Shetland is in equal measure a walker's and a photographer's paradise. One of the best ways to explore the islands is by taking short walks to the various nature reserves and scenic points. From gentle coastal walks, such as St Ninian's Isle tombolo, to hiking Rona's Hill, there are spectacular views to be had. The Hermaness Nature Reserve in the remote island of Unst is one of the most special places to visit, with otherworldly views across the sea and a large gannet colony perched high in the cliffs. If you are lucky, you might meet some puffins too!
There are also various fascinating archaeological sites to visit, such as the Mousa Broch in the Isle of Mousa and Jarlshof, a prehistoric archaeological site.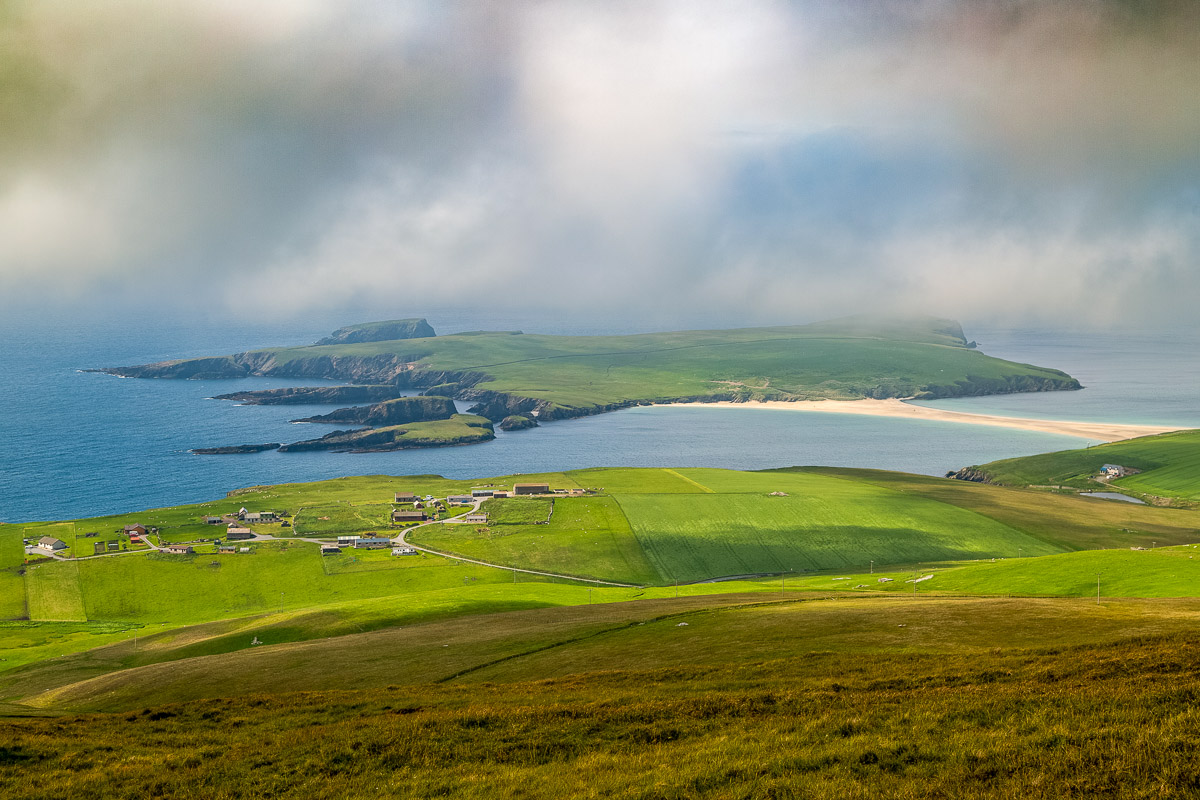 Katia Fernandez Mayo
P.S. Established in Edinburgh in 2004, Absolute Escapes are award-winning specialists in self-drive holidays in Scotland. Our team have turned our love of exploring Scotland into our day job – we know exactly where to find the best accommodation, the best food and drink experiences, and how to turn your trip into an unforgettable one. Please don't hesitate to get in touch if we help you plan your trip to Scotland.