In 1891, Sir Hugh Munro produced a definitive list of all the mountains in Scotland above 3,000 feet (914.4 metres), hence the term "Munro".
Since then, Munro-Bagging (the task of trying to climb all the Munros) has attracted people as crazy as myself.
The number of Munros has fluctuated over the years as mountains are re-measured more accurately, but the current total stands at 282. In April 2018, eight years after taking up this peculiar challenge, I stood on the summit of Buachaille Etive Beag by Glencoe to become Munro "compleator" number 6,311.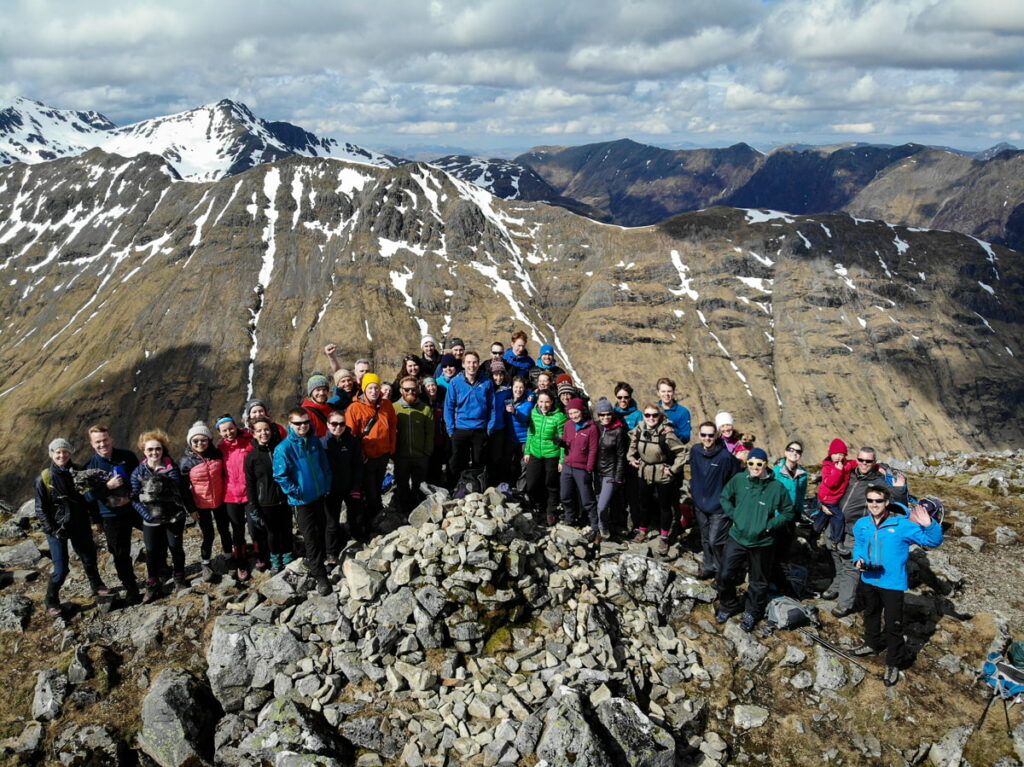 Being asked to list my favourite Munros was an incredibly difficult exercise, not only because it required sifting through years worth of memories, but also because there were so many reasons I enjoyed them.
Did I enjoy that hill because of the scenery, or the incredible sunset I saw from the summit? Was it because of the friends I was walking with, or the great pub at the bottom of the hill?
What I've ended up with is seven mountains which I think are fantastic regardless of when I climbed them, who with, or in what weather.
These are mountains which I'm sure I'll climb several times more …
A' Mhaighdean
Deep in the heart of the Fisherfield Forest, in the aptly named "Great Wilderness", you'll find A' Mhaighdean – the most remote of all the Munros.
12 miles (20 km) from the nearest road, most walkers will wild camp nearby or spend a night in Shenavall Bothy to break up the journey (bothies are very basic shelters, usually old cottages or shepherd's huts, which provide free, no-frills accommodation for those who like going truly off-grid).
I've spent many an enjoyable night at Shenavall Bothy – for me, nothing beats a hip flask of whisky sat in front of a fire, with zero access to the internet or even electricity.
As you may have guessed, I'm a big fan of remoteness, and A' Mhaighdean has this in bagfuls. That's not the mountain's only attraction – from the summit, dramatic cliffs on the west side drop several hundred vertical metres, and the eye is drawn along Fionn Loch below which stretches into the distance towards the ocean.
View this post on Instagram
Beinn Na Lap
It may be a bit of a rounded lump, but I've happily climbed Beinn Na Lap several times. There are no roads within a days walk and none as far as the eye can see, which give almost uninterrupted views from the summit.
The "almost" is because the most remote railway station in Britain – Corrour – sits just below the mountain, as the incredibly scenic West Highland Line crosses this vast expanse of Rannoch Moor.
Not only does the station give easy access to the hill, but it also houses the Station House Restaurant – a fantastic place for a coffee and a cake after your walk.
View this post on Instagram
Braeriach
High in the Cairngorm Mountains, Braeriach is the third tallest mountain in the UK and the one I've climbed the most. I love The Cairngorms – an area which ranges from high plateaus of near-arctic tundra, to wooded glens of beautiful Caledonian pine.
An ascent of Braeriach takes you on a tour of these wonderful landscapes, culminating in a spectacular summit overlooking mighty corries plunging vertically below.
View this post on Instagram
Sgùrr Mhic Chòinnich
The Cuillin Ridge on the Isle of Skye is home to the steepest and jagged set of mountains in Britain. Like most of The Cuillin, Sgurr Mhic Choinnich requires quite a head for heights, and ascending this mountain is much more of a 'scramble' than a walk.
Climbing up from Glenbrittle you'll pass through Coire Lagan, arguably one of the most impressive sights in Britain, where a crystal clear blue lochan sits surrounded by huge, vertical slabs of rock.
Having made it to the top, the gnarly Cuillin Ridge stretches out on either side. As someone with a less-than-comfortable relationship with heights, I always feel a fantastic sense of achievement sitting atop a ridge that looks so spectacularly inaccessible.
View this post on Instagram
Buachaille Etive Beag
As my last Munro, Buachaille Etive Beag was always going to make my list, but that's not the only reason. It may be dwarfed by its larger neighbour, Buachaille Etive Mor, but "the wee Buachaille" certainly punches above its weight.
The two peaks at either end of an enjoyable ridge offer two very different perspectives – the north overlooks Rannoch Moor; a vast and empty expanse, punctuated by hundreds of small lochans stretching off into the distance, whilst the southern peak looks down into the rarely-visited Glen Etive, where the fjord-like Loch Etive finishes its winding journey from the Atlantic Ocean.
To top it off, it's a particularly easy walk – a mere 4 to 5 hours on a good path.
View this post on Instagram
Càrn Mòr Dearg
Ben Nevis may be the highest mountain in the UK, but I much prefer its slightly smaller neighbour Carn Mor Dearg. Climbing Carn Mor Dearg involves tackling the fantastic 'CMD Arete', an airy and spectacular ridge.
The north face of Ben Nevis is a constant presence here – the colossal, craggy wall of mighty buttresses holds snow well into the summer and looms over you as you traverse the CMD Arete. A view never really glimpsed by the crowds ascending Ben Nevis via the usual mountain track.
View this post on Instagram
Beinn Eighe
Glen Torridon in the North West Highlands hosts three fantastic mountains; Liathach, Beinn Alligin and Beinn Eighe (each of which are technically two Munros).
It's a tough challenge to choose between them, but if pushed I'd have to go for Beinn Eighe – a huge bulk of a mountain which looms over Glen Torridon.
Its ridge is a more straightforward walk than its Torridonian partners, with less scrambling, but this is more than made up for by the views over the empty wilderness to the north, and the mighty Triple Buttress of Coire Mhic Fhearchair which walkers pass by on the ascent.
The mighty rock walls Coire Mhic Fhearchair form arguably the most spectacular corrie in Scotland, conveniently framed by the small lochan beneath.
View this post on Instagram
Discover Scotland's Wilderness
If you're inspired to explore these beautiful locations for yourself, Absolute Escapes offer award-winning self-guided walking holidays and self-drive holidays in Scotland and beyond.
Please don't hesitate to send us an enquiry or call us on +44 (0)131 610 1210 if we can help you plan an unforgettable visit to Scotland.
James Fathers