No car? No problem!
With 15 years' experience of arranging award-winning tailor-made travel to Scotland, including our popular, car-free itinerary Scotland by Train, Absolute Escapes will ensure that you have a wonderful time exploring Scotland – with or without a car.
We are dedicated to encouraging a more sustainable form of tourism without our clients missing out on any of the incredible places across Scotland. With this in mind, Helen from the Absolute Escapes team recently travelled by train from Edinburgh to the beautiful town of Melrose. She walked a section of the Borders Abbeys Way, a wonderful long-distance walking route which runs through the area, and discovered the fascinating history of this region.
Following her car-free adventure in the Scottish Borders, Helen has put together a list of 7 unique train adventures you can have in Scotland.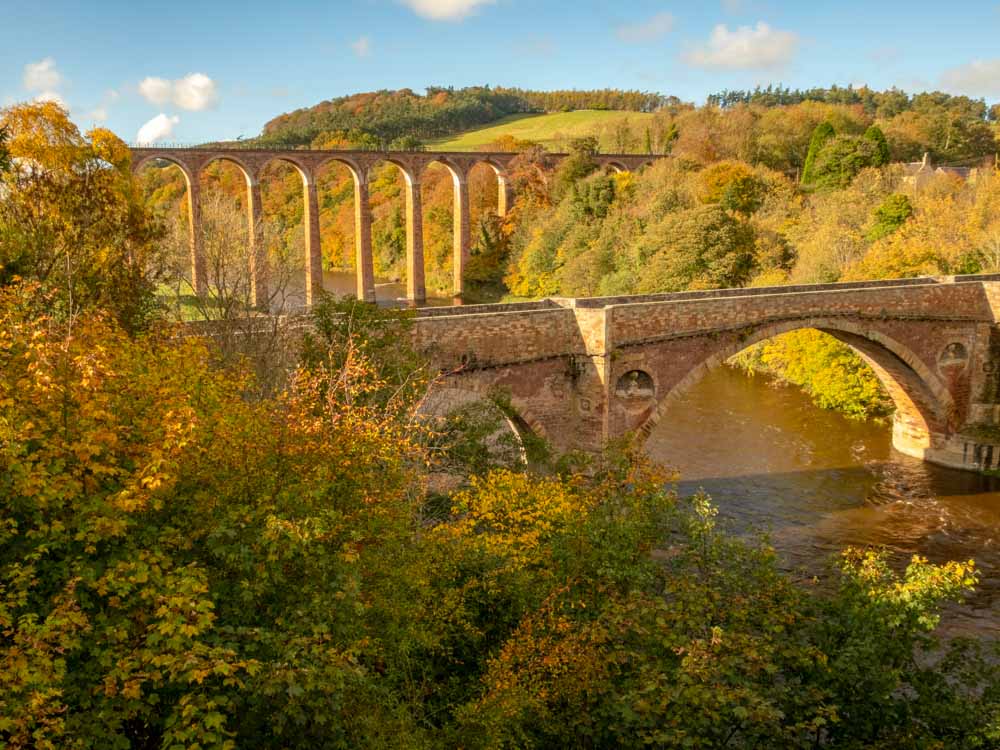 Leaderfoot Viaduct, Melrose
Melrose 
(for a historic visit to the calming countryside)
Only one hour away from Edinburgh is the rolling countryside of the Borders. Escape the city and take the train to Tweedbank where you can explore Melrose and visit Abbotsford House, the home of Sir Walter Scott.
Picturesque and historic, the town of Melrose lies alongside the River Tweed and is 40 minutes walk along the Borders Abbeys Way from Tweedbank train station. The Borders Abbeys Way is a long-distance path of 68 miles which passes alongside rivers, through beautiful countryside, and past historic ruins.
In Melrose, you have the chance to learn about the lives of Cistercian Monks who lived and worked at Melrose Abbey in the medieval period and explore the beautiful ruins. Just up the road is Trimontium Museum, the Roman Heritage Centre where the small exhibition room is manned by enthusiastic volunteers. If you are up for a walk there is also a 4-mile circular route to the location of the Roman settlement.
It is easy walking along the Borders Abbeys Way from Melrose to Abbotsford House. The exhibition and audio guide at the house are informative and well-organized, giving an interesting insight into the life of the famous Scottish novelist Sir Walter Scott. Known for his classic works including Waverley and Ivanhoe, Scott built Abbotsford House – completed in 1824 – to allow him to spend more time in the Borderlands where he was at his happiest.
After a day out in the countryside, I felt refreshed and relaxed. I would recommend hopping on the train to the Borders for some fresh air and fascinating history!
How to get to Melrose: Direct train from Edinburgh (1 hour)
Abbotsford House, Melrose 
Balloch
(for an easy escape from the city)
The beautiful Loch Lomond and Trossachs National Park lies close to Glasgow, and Balloch lies at the gateway, offering an opportunity to explore the Park without a car.
Wander around Loch Lomond or take a boat ride with Sweeney's. The Balloch House serves up a delicious pub lunch and has outside seating for catching those afternoon rays. After lunch, you could explore the aquarium which is home to a family of otters or explore the ruins of Balloch Castle.
Balloch also offers an opportunity to walk 9 miles of the John Muir Way from Balloch to Helensburgh – a really scenic section of the walk. From the end of the walk in Helensburgh, it's easy to catch the train back to Glasgow.
How to get to Balloch: Direct train from Glasgow (50 minutes)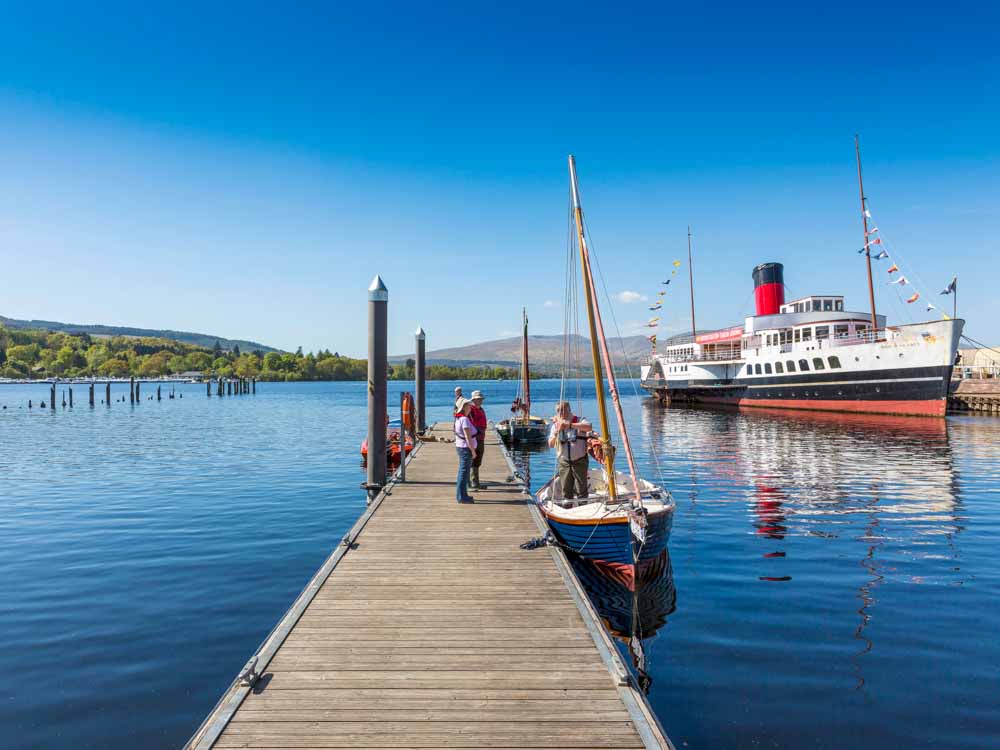 The Shores of Loch Lomond 
North Berwick
(for quaint shops & epic sunsets)
If you are staying in Edinburgh, take a 30-minute train journey to North Berwick and explore this beautiful, quaint town. Having lived in Edinburgh for 4 years, this is one of my favourite days out. North Berwick is a gem not to be missed. An insider's tip: stay until the evening to catch the incredible sunset.
Whether you decide to have a picnic on the beach, visit the lighthouse, or explore the many shops and lovely restaurants, there's plenty to entice a range of tastes. Those looking for a more active option can climb up Berwick Law which overlooks the town. Just look at those amazing views!
Alternatively, you can walk from North Berwick to Dunbar and catch the train back to Edinburgh. Emily, one of our team members, took this very route and absolutely loved it (check out our Instagram takeover highlight). You also get a chance to see the striking "Bridge to Nowhere". The section is part of the John Muir Way, a long-distance walk traversing the centre of Scotland.
How to get to North Berwick: Direct train from Edinburgh (30 minutes)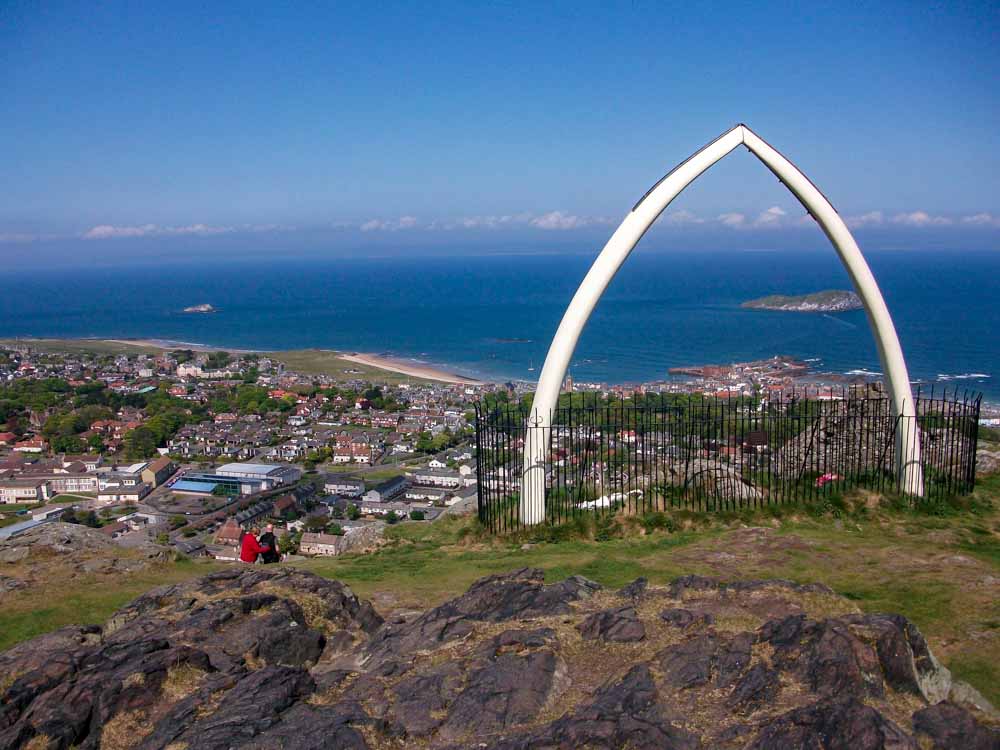 View from North Berwick Law 
Corrour
(for film lovers & keen hill walkers)
Corrour station's striking location was featured in the cult classic film Trainspotting. Nestled amongst the rugged Scottish landscape, it is the highest railway station in the UK and is inaccessible by road.
Corrour station in itself is an experience to visit, given its remote location atop a Scottish hill. However, the station also provides a perfect starting point for many hill walks. For a low-level walk, try the Loch Ossian circuit (14.5km). An alternative is the Corbett Leum Uilleim, or a longer day out and a tough walk takes in 2 Munros Sgor Gaibre and Carn Dearg.
If you would like multiple days to explore this remote and beautiful area, Loch Ossian Youth Hostel offers accommodation 20 minutes walk (1 mile) from the train station.
How to get to Corrour: Direct train from Glasgow (3 hours)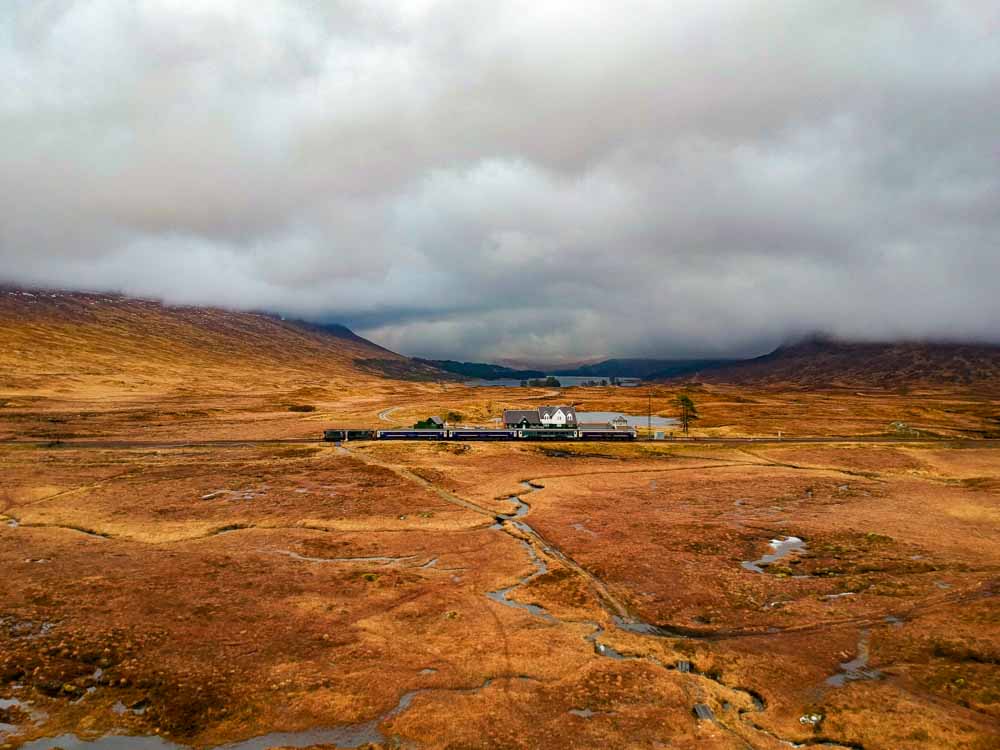 Corrour Train Station
Mallaig & Inverie
(for a world-renowned train journey & a hidden adventure)
A trip to Mallaig and Inverie is worth it for the train journey itself, which is known as one of the world's most scenic rail journeys. Leaving the urban maze of Glasgow, the train passes through the remote station of Corrour and over the Glenfinnan Viaduct (made famous by the Harry Potter films). The landscape shifts from rugged mountains to shimmering lochs, to a seemingly endless coastline.
I made this journey in the opposite direction from Mallaig to Glasgow and sat fixated on the views, looking out the window the entire time. The journey is certainly worthy of its title as one of the world's most scenic rail journeys.
You will arrive by train to the seaside town of Mallaig and from here it is only 30 minutes by ferry to Inverie.
Inverie is the main village in the Knoydart area and can only be accessed by foot or by boat. Known as 'the roughs of Knoydart', this area is remote and peaceful and a world away from Glasgow and the popular train to Mallaig.
Inverie is both a beautiful place to relax and a great base for an adventure. The Corbetts Beinn Bhuidhe and Sgurr Choire Choinnichean provide magnificent views from the Knoydart peninsula.
For Munroists, Inverie is a good starting spot for the very remote Luinne Bheinn and Mheall Bhuidhe and Ladhar Bheinn.
Relax in the Knoydart Pottery and Tea Room with sandwiches, tea and cake. On a sunny day, the terrace is the perfect place to sit and enjoy beautiful views of Loch Nevis. In the evening, the steak and seafood bistro The Lookout and the Doune Restaurant both serve up delicious food.
How to get to Mallaig & Inverie: Direct train from Glasgow (5 hours) and a 30-minute ferry to Inverie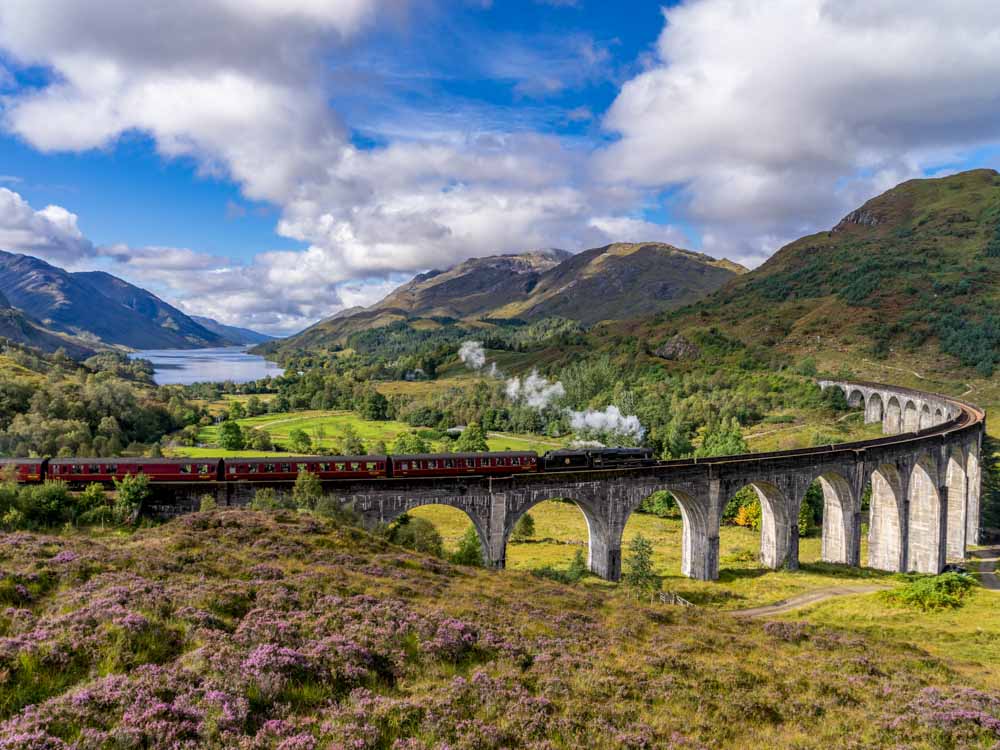 Glenfinnan Viaduct, Glenfinnan
Achnashellach
(for classic mountain walks)
Staying in Inverness? Hop on the train to Achnashellach Station and set out on one of the many hill walks nearby in the impressive and dramatic mountains of Wester Ross. The views will not disappoint.
Throughout my childhood, the Wester Ross area was a favourite family holiday destination and, in recent years, it has remained a favourite as I have continued to explore the area. The steep, rocky mountains create a dramatic landscape and they are a lot of fun to clamber up. There's no doubt I will be going back for many years to come.
This area is also a favourite among other members of the Absolute Escapes team. Charlotte described the Corbett walk Fuar Tholl, which starts from Achnashellach Station, as one of her absolute favourite walks.
Another more low-level option is the Coire Lar and Easan Dorcha circuit.
The station also offers Munroists a great opportunity to tick off more Munros with routes to Beinn Liath Mhor and Sgorr Ruadh.
How to get to Achnashellach: Direct train from Inverness (1 hour 40 minutes) – Request Stop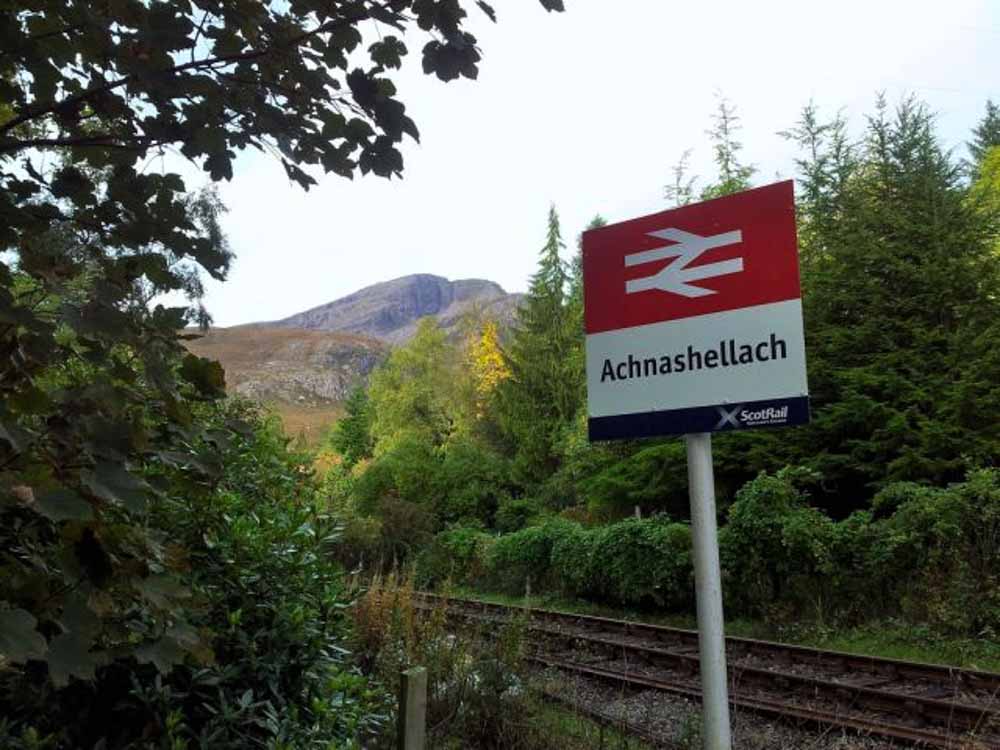 Achnashellach Train Station
Dunrobin Castle 
(for historic splendour in the far North)
The request stop for Dunrobin Castle station lies on the remote train line running between Inverness and Wick. Dunrobin Castle is the largest of Scotland's great houses in the North of Scotland and the stunning grounds are well worth a visit, with the grand house and gardens open to visitors from the beginning of April to the end of October.
I would recommend walking around the gardens (which were inspired by the gardens of the Palace of Versailles) and experiencing the falconry display. Make it a day trip from Inverness and round off your visit relaxing with tea and cake in the castle's tea room.
How to get to Dunrobin Castle: Direct from Inverness (2 hours 20 minutes) – Request Stop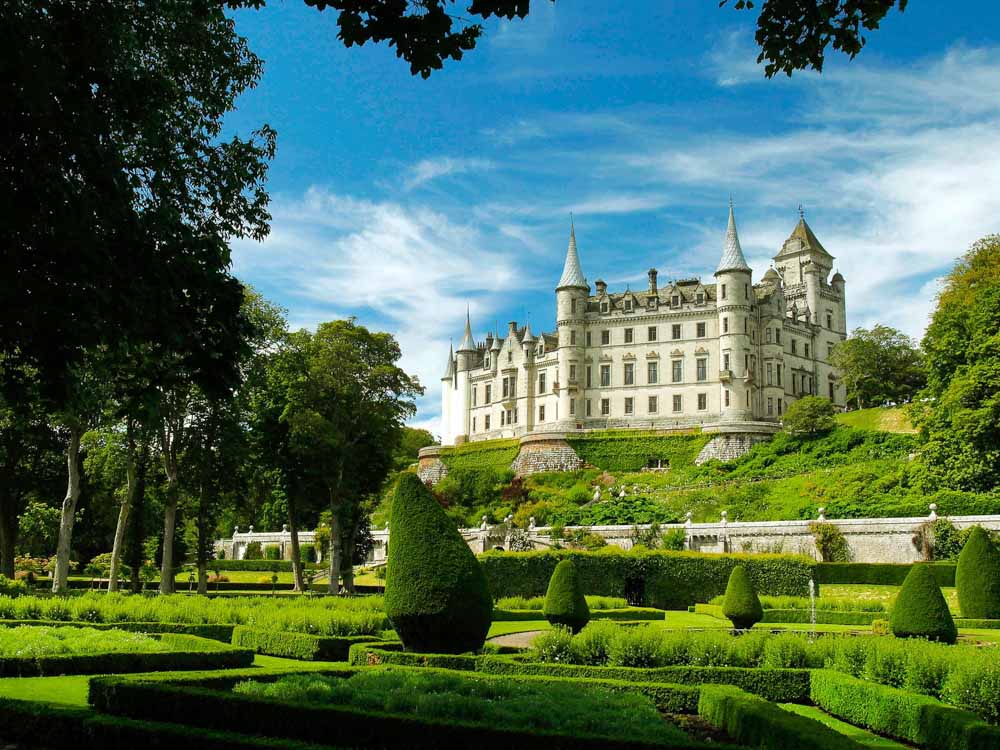 Dunrobin Castle, Golspie
Discover Scotland by Train
We would love to talk to you about your Scottish train adventure. Send us an enquiry with your wish list and we will do the rest – leaving you free to enjoy an unforgettable, stress-free holiday with some special stops.
Established in Scotland in 2004, Absolute Escapes are award-winning specialists in tailor-made travel to Scotland. Our self-guided Scotland by Train package is a wonderful way to explore the highlights of Scotland without a car and we would be more than happy to add in any unique locations to your itinerary.
If you have any questions, please don't hesitate to get in touch. You can call our knowledgeable team on +44 (0)131 610 1210 or email enquiries@absoluteescapes.com.
Helen McLaren