Nestled in the heart of Scotland, the city of Edinburgh is home to an abundance of charming scenes just waiting to be photographed!
From its cobbled streets and narrow closes to large, open parks and dramatic clifftops, you will be spoilt for choice on where to unleash your creativity.
With the Absolute Escapes office based in the heart of Edinburgh's Old Town, I've had the opportunity to discover some of the city's best photography spots. Here are my top tips for photographing Scotland's picturesque capital!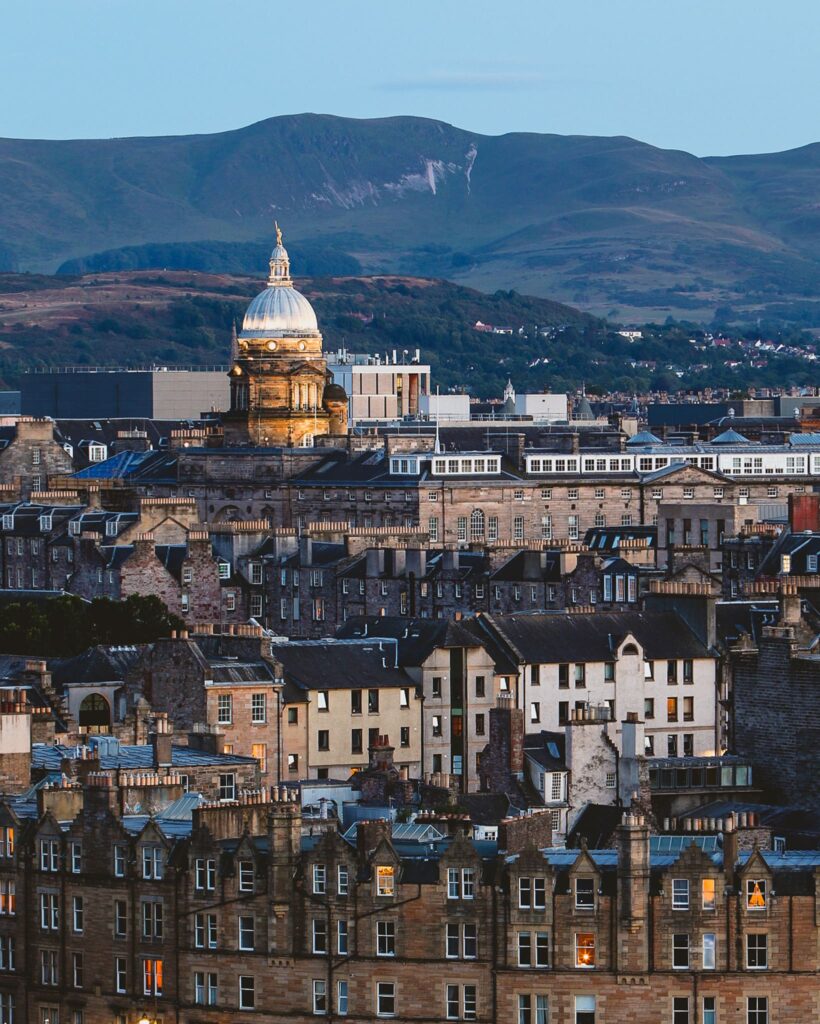 Find a vantage point
Edinburgh has no shortage of viewpoints, with the renowned 'seven hills of Edinburgh' making for plenty of locations to capture stunning panoramic views at any time of day.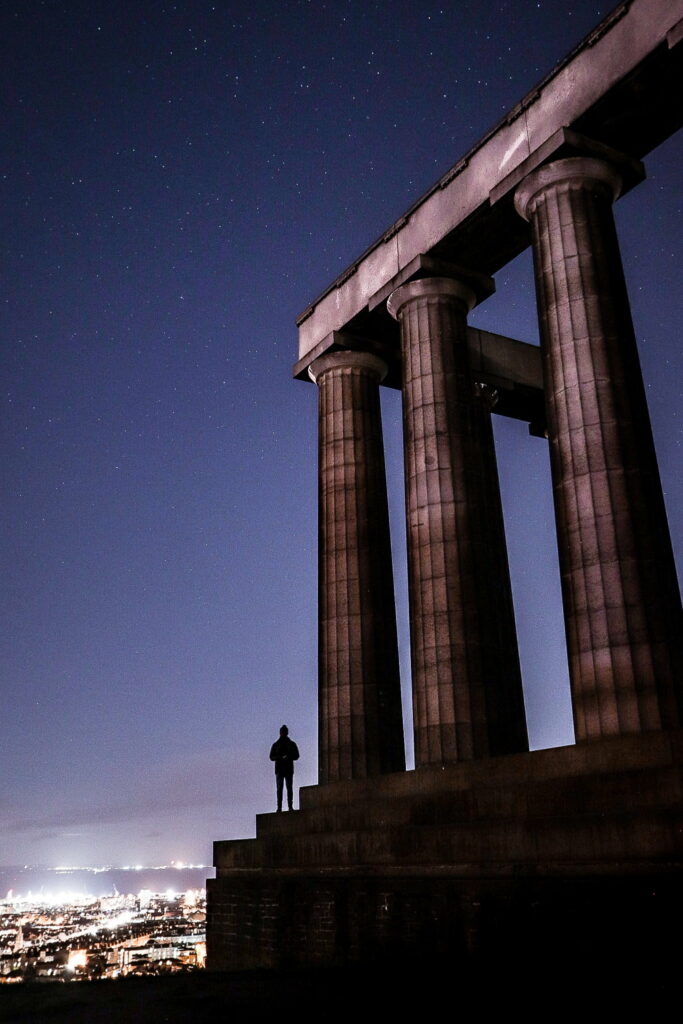 Calton Hill is a popular photography spot, especially at sunset and it's no surprise why. Firstly, it is instantly recognisable, with landmarks such as Nelson Monument, the National Monument of Scotland, and the former City Observatory scattered across its grassy hilltop.
Perhaps the most photographed monument, however, is the Dugald Stewart Monument. This memorial to the Scottish philosopher is perfectly situated at the forefront of a sweeping view of the imposing Edinburgh Castle, the Scott Monument and the Balmoral Hotel, with a distant backdrop of the Pentland Hills to top it off.
Another location popular with photographers is the little viewpoint on the west side of Nelson Monument, which provides a far-reaching view down Princes Street.
This is a great location for shooting long exposure at night, as the variety of vehicles travelling up and down Princes Street creates some interesting light trails.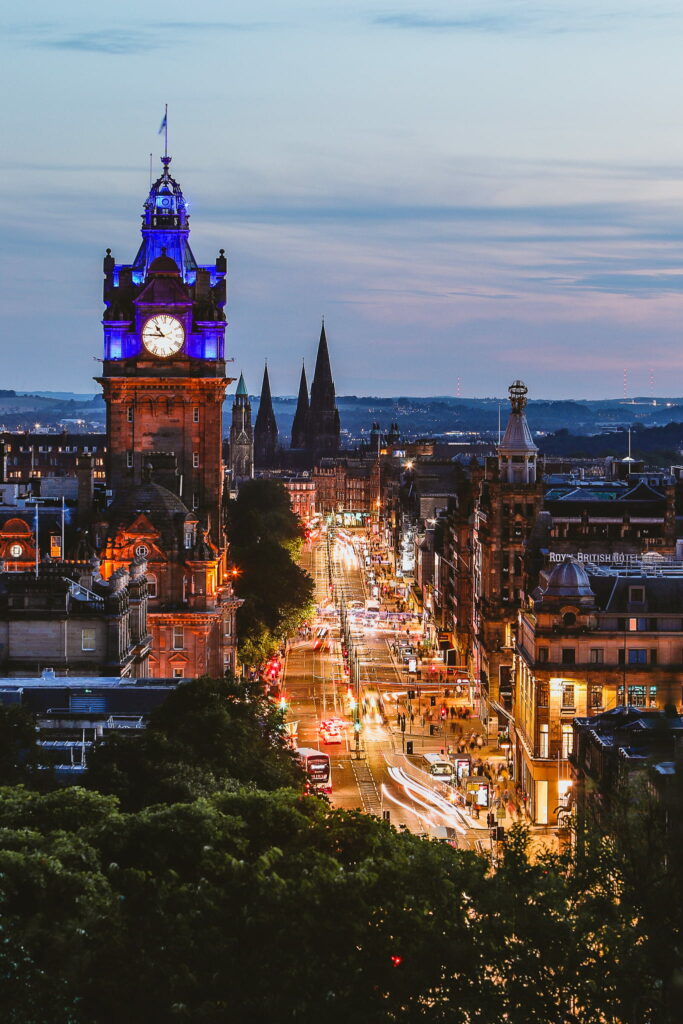 Calton Hill is also very accessible, just a 10-minute walk from Edinburgh Waverley Train Station on well-made paths. There is vehicle access to the top of the hill for disabled visitors to the Collective Art Gallery in the observatory and The Lookout Restaurant, which sit atop the hill.
For a more dramatic vantage point, the highest point in the city is the top of Arthur's Seat. It's a short but steep walk, but at the summit, you are rewarded with captivating 360-degree views across the city and beyond. The urban landscape is diverse – historic architecture meets more modern, unconventional builds, with green parks and woodland scattered around to soften the cityscape. There are so many perspectives to choose from, it can almost be overwhelming!
There are great views to the north over the Firth of Forth estuary towards Fife. If you look north-west, you may be able to spot the iconic Forth Bridges in the distance, behind the sweeping shelf that is Salisbury Crags, lying directly below Arthur's Seat. The Pentland Hills are visible to the south-west. To the east, you can see all the way along the East Lothian coastline, with North Berwick Law popping up on the distant horizon.
A walk along the top of Salisbury Crags is a great alternative to climbing Arthur's Seat, with its striking cliff faces jutting out over the city. Do be careful walking along here, as there is currently no official path open to the public and the ground can be rough.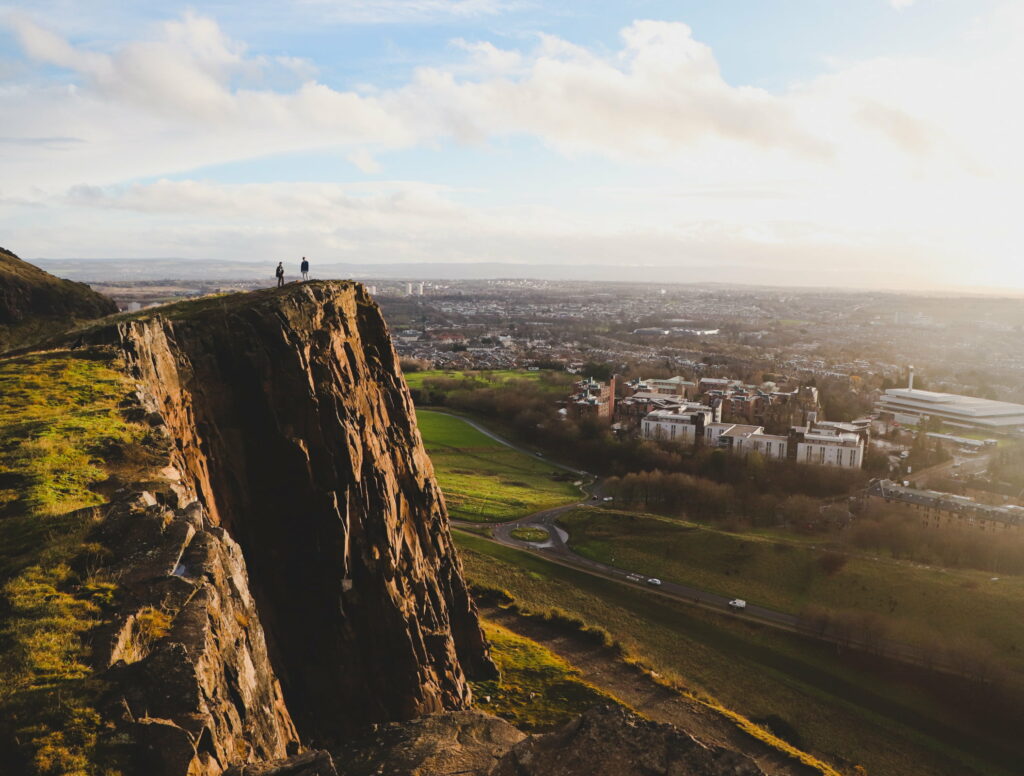 The famous spots are popular for a reason!
You will likely see many photographs of the same Edinburgh landmarks and areas – but there is a good reason for this!
Edinburgh has many sights which are truly breathtaking. Perhaps the most famous photography spot is Circus Lane, a charming cobbled street close to the vibrant area of Stockbridge.
The Old Town is also a very busy area, with Edinburgh Castle, the Royal Mile and many winding closes to explore. However, when full of people, these locations can feel rather cramped and you may be waiting a while to be able to take 'that perfect shot'.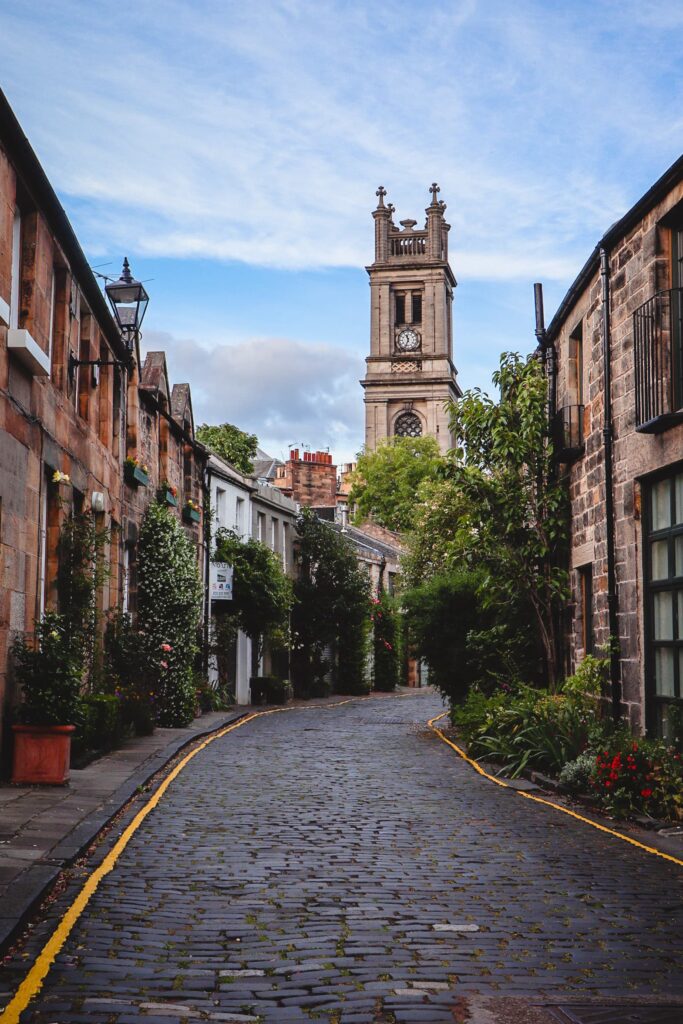 It is possible to have these places to yourself if you visit outside of the busy times of the day. Instead of sunset, how about venturing out at sunrise? Of course, you have to consider an early start, and that the sun will be in a different direction, but as a result you will likely be rewarded with more unique photographs, without the crowds.
During the night is also a rewarding time to explore Edinburgh, though the narrow streets can feel somewhat spooky! There are many great locations to shoot traffic light trails with a long exposure, and eerie night-time cityscapes.
Landmarks such as the Balmoral Hotel and the famous Scott Monument are lit up at night, therefore, providing a more dramatic effect.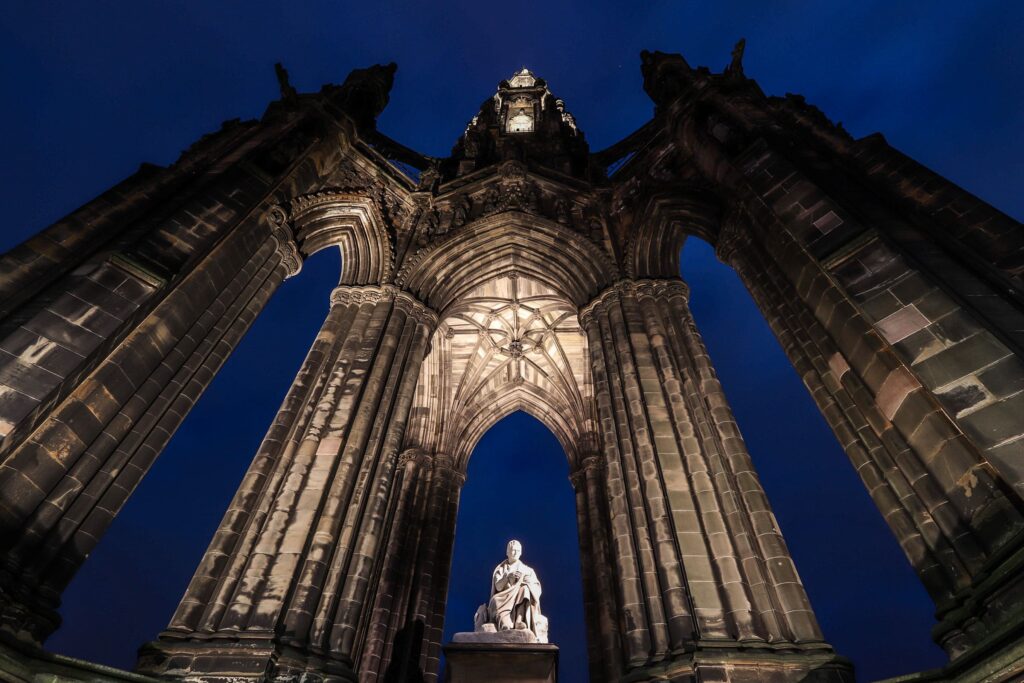 Alternatively, you could take advantage of the hordes of people and make them an intentional part of your image.
For example, a photograph of busy Princes Street can really give you a sense of the hustle and bustle of the city, or in a photo of picnic-goers dotted around Calton Hill, you can almost hear the gentle hum of excitement and chatter on a mild summer's evening.
Take advantage of the varied weather and seasons
Scotland is not known for its wonderful weather however, the variety of conditions we experience can be brilliant from a photography perspective. In my opinion, the most interesting shots are not usually those where there are clear blue skies, but instead interesting cloud patterns, dramatic post-rain sunshine, or eerie, dense fog.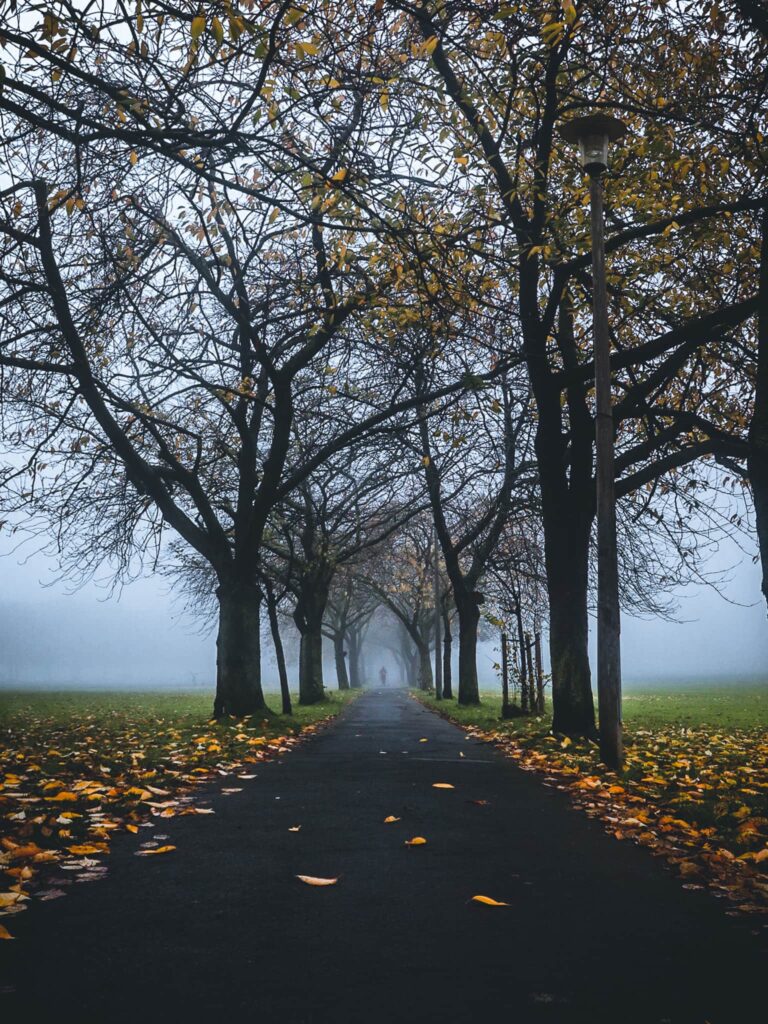 If you are blessed with sunny conditions, one of the main photography 'rules' out there is to always shoot with the sun behind you.
There is some reasoning behind this however, I don't think you should be afraid to put the sun behind your subject for some added drama!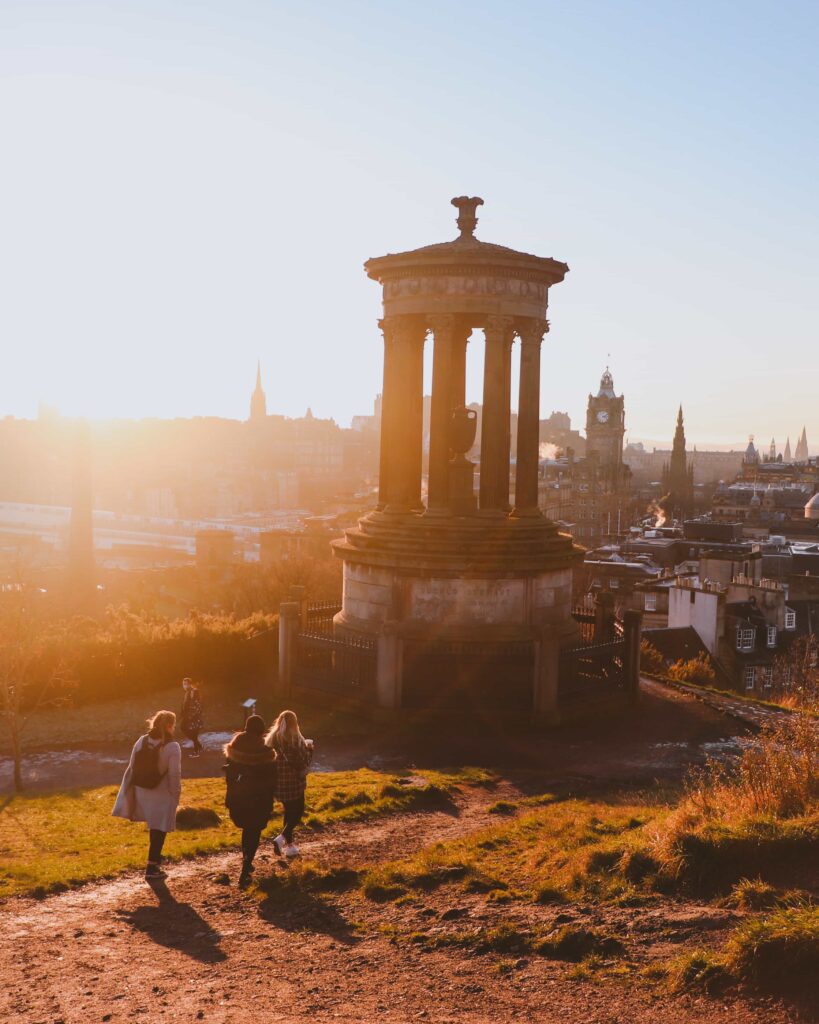 Photographing Edinburgh in the different seasons also allows you to capture the city's charm and beauty as it changes throughout the year.
Spring arrives in Edinburgh with a burst of colour. Through April and May, the city is painted yellow and pink by the gorse and cherry blossom blooming.
You will find plenty of gorse bushes on Calton Hill and Arthur's Seat, and some of the best spots for the vibrant pink cherry blossom trees are Princes Street Gardens, The Meadows, and Starbank Park.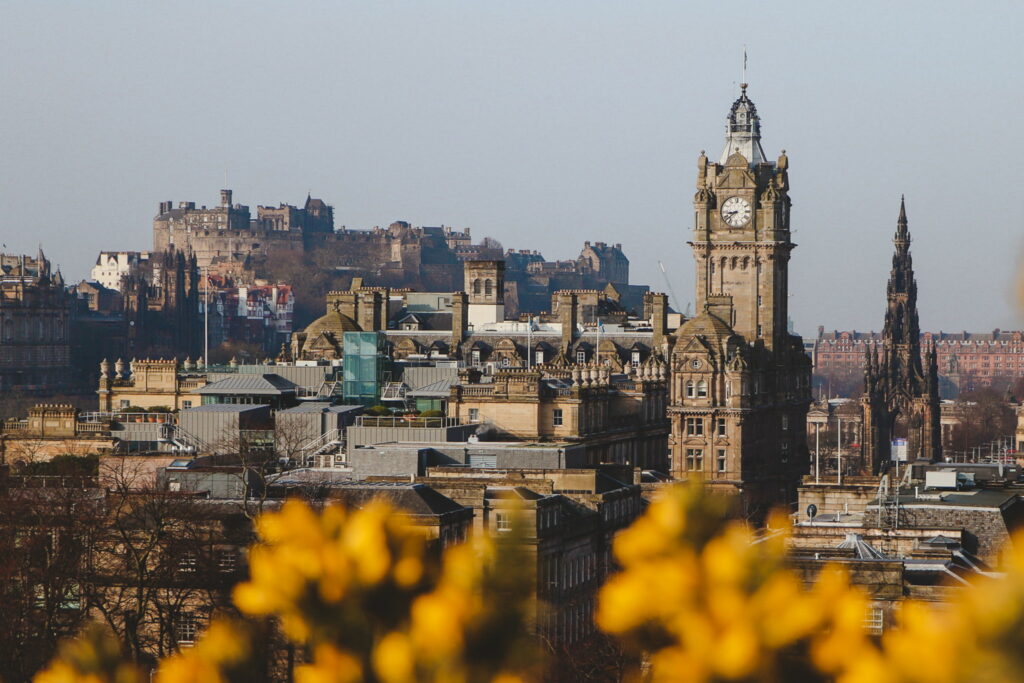 In summer, the city streets are lined with lush green trees, complemented by the lively atmosphere across the city.
The Royal Botanic Garden is in full bloom and is a lovely peaceful place to practice macro photography with a wide variety of colourful flowers and insects.
Edinburgh's winding streets are made even more magical when covered by a layer of white snow in winter. It may be dark outside for most of the day, but the city is lit up with festive decorations, Christmas markets, and the warm glow from cosy cafes and pubs. Why not witness these beautiful winter scenes for yourself with our Edinburgh & The Scottish Highlands in Winter self-drive holiday?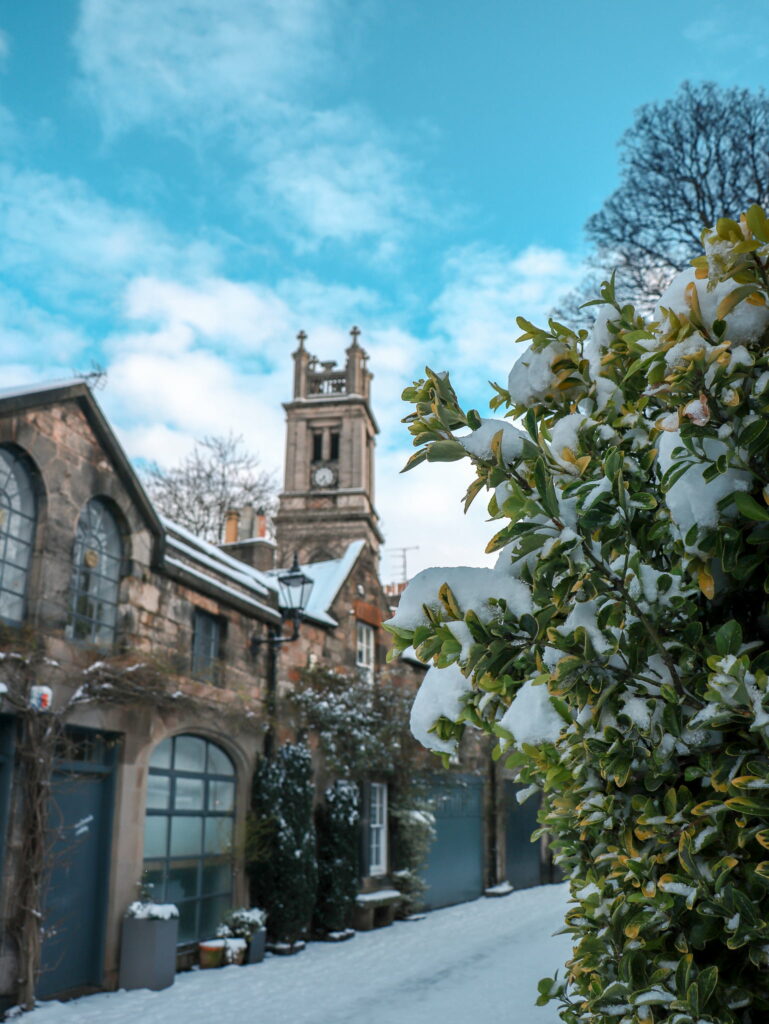 Ready to take some stunning photographs?
There is no doubt that Edinburgh is a picturesque city, one in which you can enhance your photos by embracing the variety it provides.
Whether it be through the diverse landscapes, the changing seasons or the unpredictable weather, Edinburgh is the perfect place to tell a story through your lens.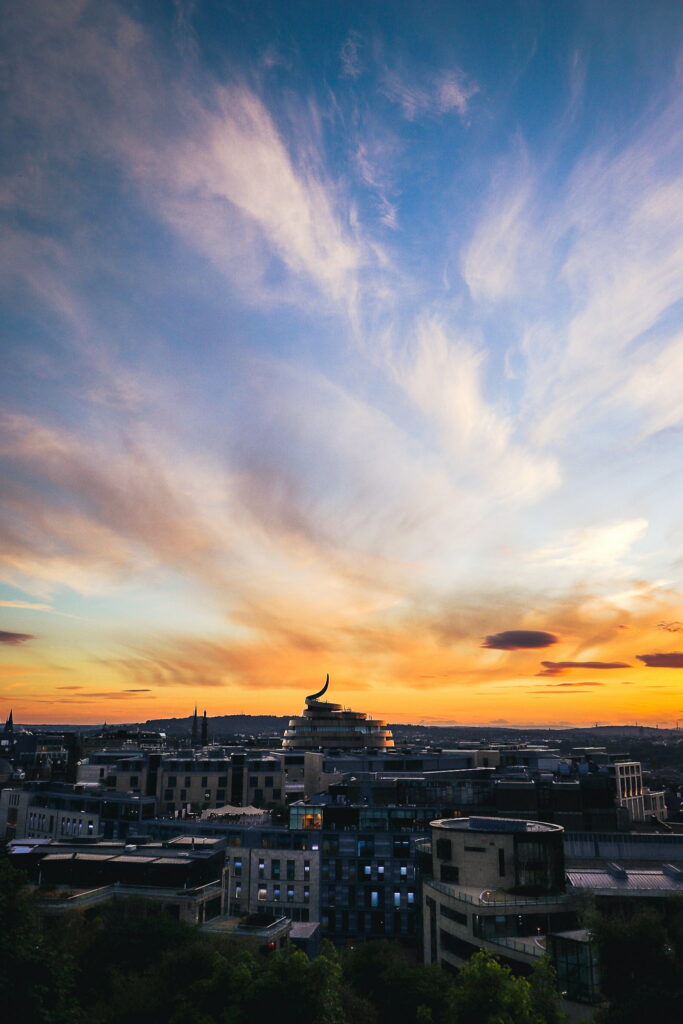 If you're interested in visiting the best photography spots, our team of expert Travel Specialists based in Edinburgh can create a tailor-made itinerary just for you. Absolute Escapes self-drive holidays are designed to showcase the very best of what the UK has to offer, at your own pace.
Get in touch today and let us know your preferences and individual requirements for a holiday that suits you perfectly.
Happy photographing!
Zoe Kirkbride
P.S. Did you know that we run a photo competition for our clients every year? Each photo we receive from our clients' holidays is entered into our annual photo competition with fantastic prizes for the winners and runners-up. We can't wait to see the amazing photographs you'll capture!