As official trail openings go, the John Muir Way's was fairly eye-catching. Scotland's First Minister, Alex Salmond, posing with a group of men sporting large fake beards and dressed in tweed. Not your average day in Dunbar.
100 years after his death, the great conservationist has been honoured with Scotland's newest long-distance trail – a 134 mile coast-to-coast route running from Helensburgh in the West (from where he emigrated to America) to Dunbar in the East (his birthplace).
Who knows what he'd have thought of his impersonators, but I think we can safely say he'd be proud of the great efforts that have gone into creating the Way.
Looking at a map of Scotland, the John Muir Way traverses a region that you wouldn't naturally associate with walking – and that's part of the thinking behind it. The route is intended to show that central Scotland has plenty to offer the long-distance walker.
As I was lucky enough to be sent to walk the first half of the Way, I was looking forward to discovering exactly what that was!
View this post on Instagram
Arrival in Helensburgh
Arriving in Helensburgh one morning in October, things didn't get off to a great start – the weather could only be described as 'dreich', and I got a thorough soaking almost as soon as I stepped off the train. However, I soon dried off at the lovely Balmillig B&B (helped along by some tea and shortbread), and once things improved outside I took a wander around the town.
Popular as a seaside resort since Victorian times, Helensburgh has a multitude of cafes, and as part of 'vital research', I sampled a few of them. To end the day, a visit to Hill House; a mansion situated amongst leafy boulevards and famously regarded as the finest domestic work by Charles Rennie Mackintosh.
View this post on Instagram
Day 1 – Helensburgh to Balloch
The John Muir Way begins (or ends, depending on your direction) at a little bench and art installation on Helensburgh waterfront. I had picked the perfect day to start – the mist was just clearing from the Firth of Clyde, allowing the blue sky above to break through. I'd heard that one of the common ceremonies on Wainwright's Coast to Coast walk is to take a pebble from the beach at the start, and drop it in the sea at the other end of the walk. So why not on this Coast to Coast too? Pebble duly pocketed, I turned my back on the West coast and started on the first of many miles Eastwards.
Leaving Helensburgh, the route soon begins the ascent of Gouk Hill, the high point of the whole Way. Birdlife was abundant in the hedgerows and pine forest on the way up, though none would agree to hold still for a photo. The viewpoint from Gouk Hill is nothing short of fantastic – Loch Lomond was laid out in front of me, with Conic Hill and Ben Lomond beyond.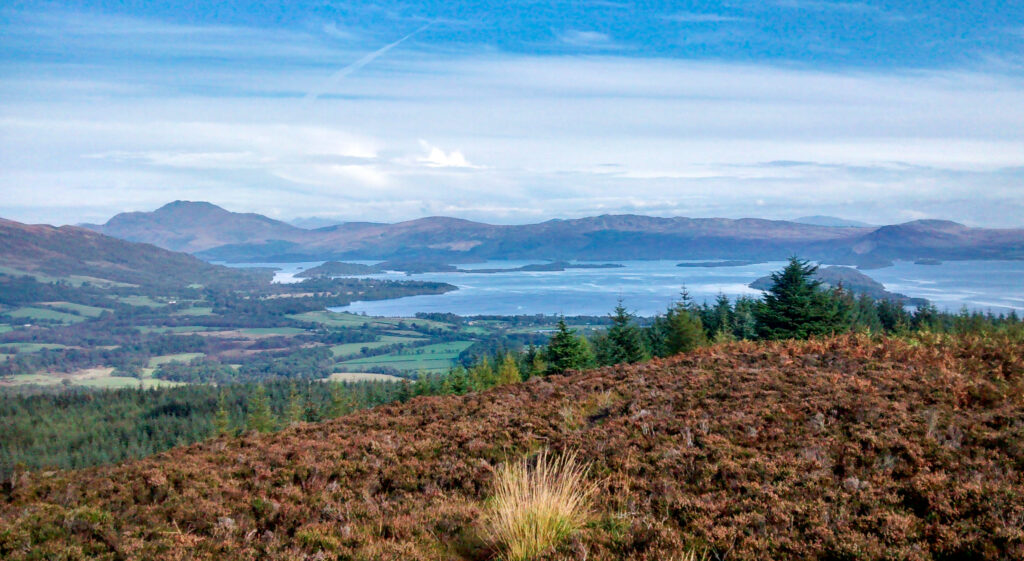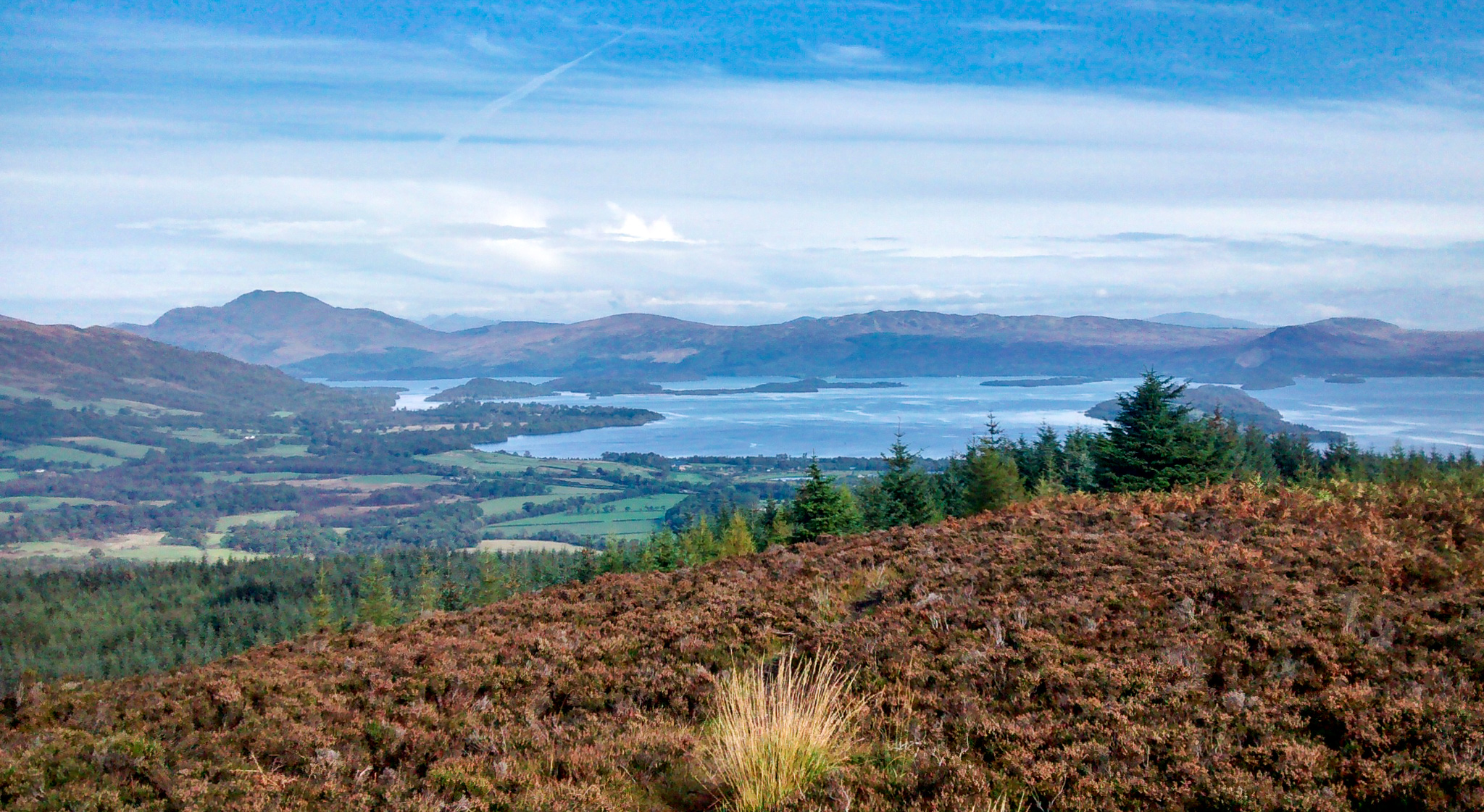 On the descent, the Stoneymollan Road provided a wonderfully picturesque setting, where I lingered for quite some time, taking in the autumn colours. At 9 miles, the first day was a short one, and I was in no rush.
Eventually I made my way down to Balloch, on the bonnie, bonnie banks of Loch Lomond, where yet more tea and shortbread were waiting for me at Gowanlea Guesthouse.
Day 2 – Balloch to Strathblane
There is no shortage of things to do in Balloch, I could have taken a cruise on Loch Lomond, visited the iconic Maid of the Loch Paddle Steamer, explored the aquarium, or even hired (and probably capsized) a canoe. But my second day was a considerable 18 miles, so I needed to get going.
Starting early, I left a misty Loch Lomond and made my way through peaceful dairy country on quiet country lanes. Meeting nobody but cows and the odd cyclist, normal mornings back in the office seemed a world away.
After a quick drink in the Wayfarer Bar in Croftamie (more vital research) I soon reached the point where the John Muir Way joins up with the West Highland Way for a few miles, as it passes beneath the Campsie Fells.
Even in October, the West Highland Way was busy and for those few miles, I encountered many more fellow walkers. Having passed Glengoyne Distillery, and resisted the temptation to visit, I found myself parting with the West Highland Way, as my route led me along the final stretch to my accommodation in Strathblane.
View this post on Instagram
Day 3 – Strathblane to Auchinstarry
On my third day, the John Muir Way began to throw up some of the historical points of interest which make it distinct from most other walks. An initial stretch along the leafy Strathkelvin Railway Path passed through old railway tunnels and a long-disused station, and then at Kirkintilloch, I reached the Forth & Clyde Canal.
A long section of peaceful towpath followed, during which I was passed by a single solitary barge – a far cry from the canal's busy heydays in the 1800's.
A short detour from the canal takes the Way up onto Bar Hill, site of a ruined Roman fort which formed part of the Antonine Wall – the northernmost reach of the Roman Empire (and now a UNESCO World Heritage Site).
Admiring the views of the Campsie Fells across the glen, I could certainly see why the Romans built the fort there. But as the cloud snuck up on me and it started to rain, I could also see why they went no further – I certainly wouldn't have braved that weather wearing only a toga.
Returning to the canal at Auchinstarry, my final night was spent at the Boathouse, a 4* Restaurant with Rooms, where the food certainly lived up to the title.
View this post on Instagram
Day 4 – Auchinstarry to Falkirk
My final day on the John Muir Way began with another stretch on the Forth & Clyde Canal, taking me along a quiet leafy towpath, past a few locks, before a brief reintroduction to civilisation at Bonnybridge.
The route then takes another visit to the Antonine Wall, at Rough Castle Fort – not as well preserved as Bar Hill, but a wonderfully peaceful area of grassy woodland, where I sat and ate my lunch atop the remains of the wall.
Leaving this feat of 2nd-century engineering behind, I made my final wander through the woods towards a more recent feat of engineering (21st century). The Falkirk Wheel is undoubtedly impressive, and it draws plenty of visitors, but it was quite satisfying to know that I wasn't just one of the daytrippers arriving by car, but I walked nearly 50 miles to get there.
And it was at Falkirk that I ended my first stint on the John Muir Way – I was disappointed to have to stop, but the office can only be escaped for so long.
View this post on Instagram
Looking Back
So, what reflections to take from my first few days on the Way? Well, it surprised me.
With the John Muir Way you are taken through areas of nature and scenery that you would never really expect from central Scotland.
In just 4 days the Way took me from moorland, hills, lochs and country lanes to quiet woodland, villages, bird-filled hedgerows and canals – a range of terrain that few trails can boast. And that's not to mention the beaches, sea cliffs and medieval castles that the Eastern half of the Way has in store for me.
Added to that, the route contains a multitude of historical, archaeological and architectural points of interest which you simply don't get on more conventional trails.
I don't know of many walks where you can visit a UNESCO World Heritage Site and a giant rotating boat lift in one day.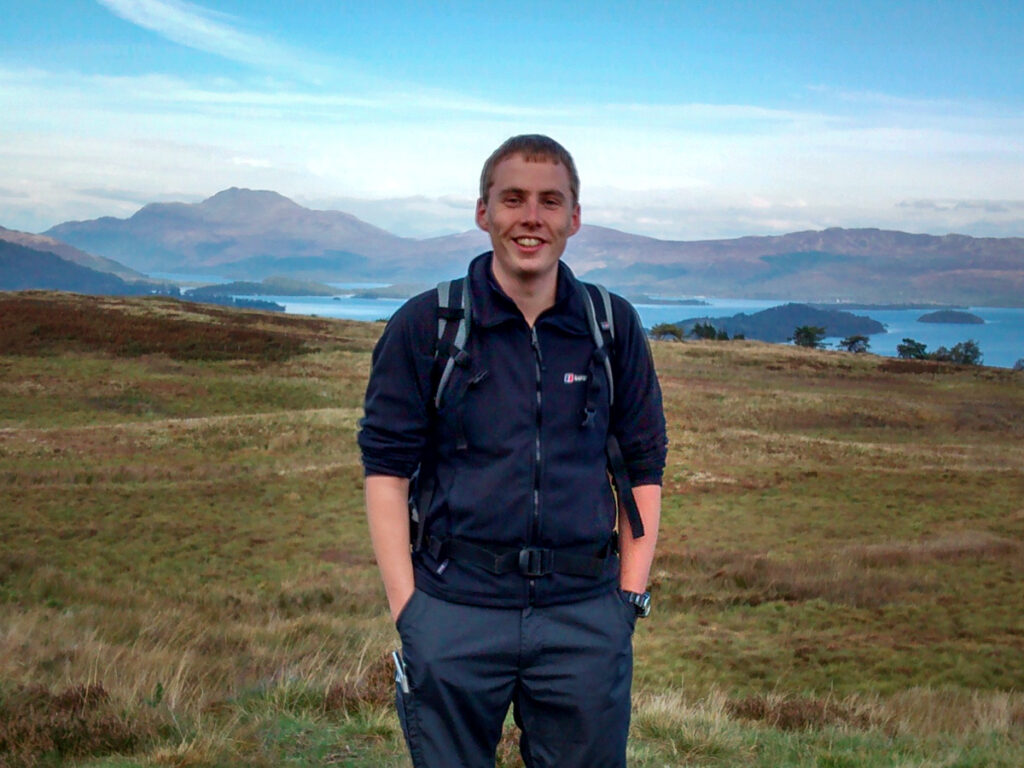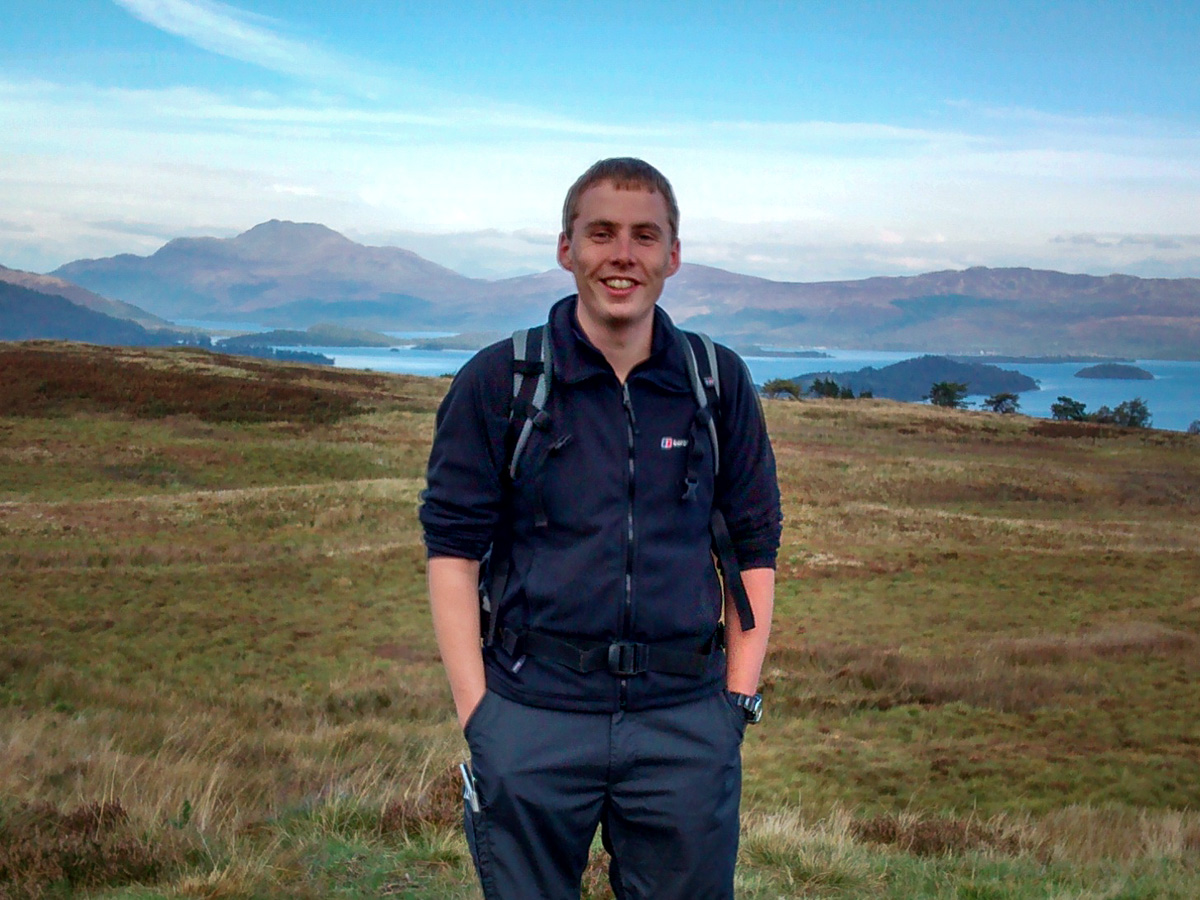 So for me, the John Muir Way is a great success, and is well summed up by the great man himself:

"All the wild world is beautiful, and it matters but little where we go, to highlands or lowlands, woods or plains, on the sea or land".
Over the coming months, all of us at Absolute Escapes will be walking the remainder of the Way bit by bit. If all goes to plan I should get to Dunbar by March, where the pebble from Helensburgh seafront, which is still in my rucksack, should finally make it into the North Sea.
James Fathers