Stretching 84 miles across northern England, Hadrian's Wall Path attracts thousands of walkers every year to conquer one of the country's most famous trails. 
2023 marks 20 years since Hadrian's Wall Path first opened and last year Hadrian's Wall celebrated its 1900th anniversary, so what better time to unveil our ultimate guide to this spectacular walk?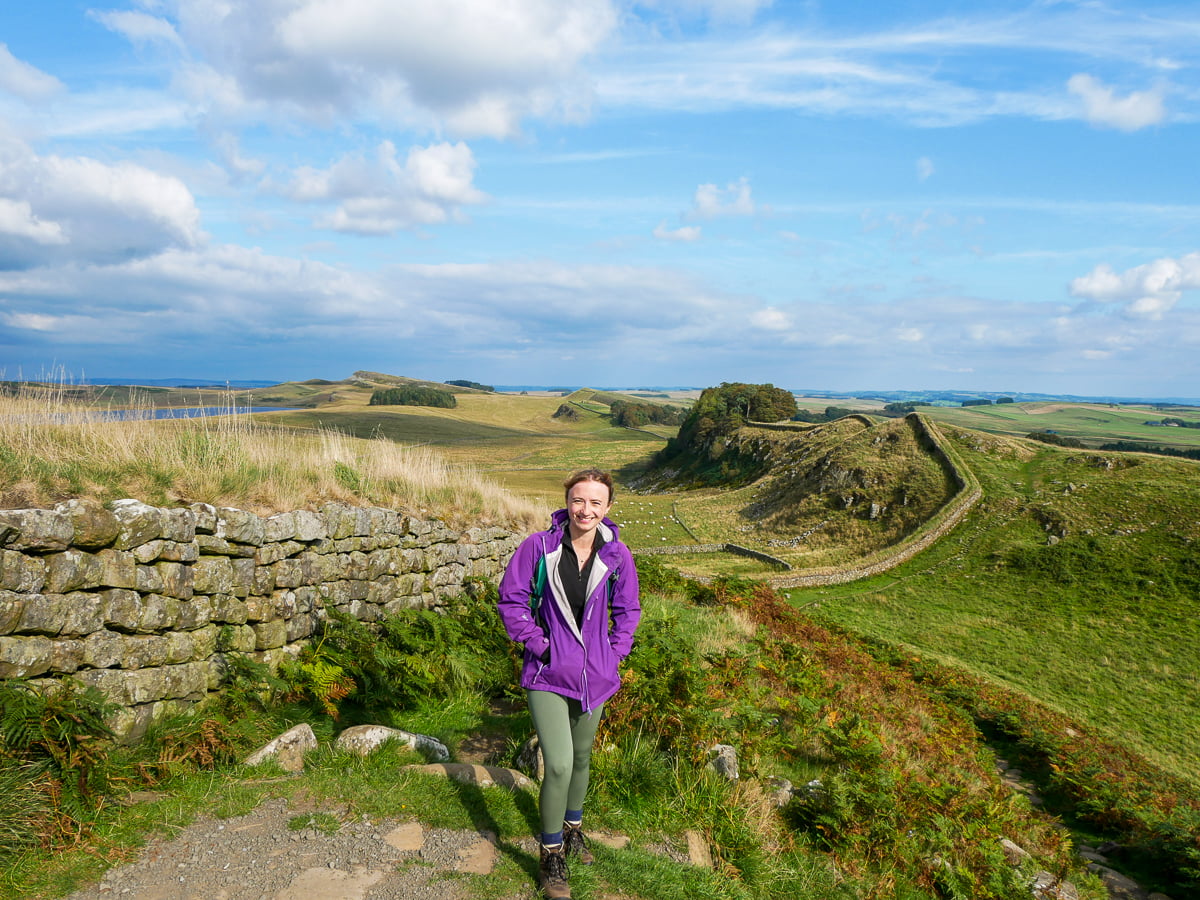 Who was Hadrian, and what is the Wall?
Hadrian was a Roman emperor in the 2nd century AD, and is particularly renowned for building Hadrian's Wall, a defensive fortification which stretched from coast to coast across the north of England (then known as the Roman province of Britannia).
The wall took six years and 15000 men to build! It originally marked the border between Roman Britannia and the unconquered land of Caledonia to the north. Much of the original wall can still be seen today and has been a UNESCO world heritage site since 1987.
When is the best time of year to walk the Hadrian's Wall Path?
We recommend walking Hadrian's Wall Path between April and October, as this is the season when luggage transfers are available along the trail. This also allows for the best chance of good weather and enough daylight hours to complete the trail – although good weather in the north of England is never guaranteed!
Spring is a particularly lovely time to walk this route, as there are plenty of wildflowers to brighten the landscape. As much of the trail passes through rolling farm fields, you'll have adorable lambs as your walking companions!
The Hadrian's Wall Path is a popular route and does get busy during the summer months. If you would rather avoid busier periods, reach out to one of our experienced Travel Specialists who can provide an up-to-date evaluation of the best time to walk the trail.
View this post on Instagram
Is there public transport along the route?
The main public transport service available is the Hadrian's Wall Country Bus AD122, which travels from Hexham to Haltwhistle and stops at many of the best sightseeing spots and overnight locations.
View this post on Instagram
Where are the best places to add an additional day?
With so many fantastic things to see in Hadrian's Wall country, we definitely recommend factoring an additional day or two into your itinerary. Here are our suggestions for the best places to spend a day exploring:
Newcastle
The city of Newcastle is the exciting hub of the North East, packed full of restaurants, bars and sightseeing opportunities. We recommend you start your day with a visit to Newcastle Castle, a Norman stronghold steeped in history with stunning views over the city. You could spend the afternoon at Sedgenum Roman Fort in the neighbourhood of Wallsend, exploring their museum and learning about the Roman history of Tyneside. Finish your day with an evening stroll along the lively Quayside, home to a variety of bars and restaurants.
View this post on Instagram
Chollerford / Humshaugh
The neighbouring villages of Chollerford and Humshaugh sit on the River Tyne and are home to Chesters Roman Fort and Museum. Here you'll find one of the best-preserved Roman bathhouses with tranquil countryside views. We recommend spending plenty of time exploring, as there's endless information to soak up in their museum of Roman artefacts. There's a lovely tearoom on-site for refreshments, or you could bring a picnic to enjoy by the river!
View this post on Instagram
Once Brewed
Roughly halfway along the trail is the small settlement of Once Brewed, the crossing point of the Hadrian's Wall Path and the Pennine Way (another of Britain's most famous long-distance walking trails). From here, you're within easy reach of Vindolanda, Housesteads Roman Fort and The Sill Discovery Centre, so you can have a full day of historical and archaeological exploring.
A short walk up the hill from Once Brewed is the iconic Sycamore Gap, perhaps the most-photographed spot in the entire Northumberland National Park!
Top tip: Wait until the evening to visit this spot, so that you can capture a perfect silhouette photograph against the twilight sky while avoiding too many other visitors. It's located in a designated Dark Sky park, so if you're looking to improve your night photography, the Twice Brewed Inn offer Stargazing packages to make unforgettable memories at this remarkable location.
View this post on Instagram
Carlisle
For history fans, Carlisle is an ideal destination for an additional day. Its beautiful cathedral has been standing for 900 years, and its combination of Norman and Gothic architectural styles makes it very unique. You could stop in at the nearby Tullie House Art Museum and Gallery, which houses a wide range of exhibitions and collections covering fine art, human history and natural sciences.
We also recommend spending a couple of hours exploring Carlisle Castle, where the turbulent past of this historic border city comes to life. Having been the site of many conflicts between Scotland and England over the centuries, it's a rare example of a medieval castle which has been continuously occupied since its construction almost 1000 years ago.
View this post on Instagram
How long does it take to walk the Hadrian's Wall Path?
At Absolute Escapes, we offer four different itineraries for Hadrian's Wall Path ranging from 5 to 8 days, so there's a pace to suit everyone.
Our most popular itinerary covers the route in 7 days / 8 nights, with an average daily mileage of 12 miles. If you don't see an itinerary that suits you on our website, reach out to one of our Travel Specialists and we will do everything we can to tailor an itinerary to suit your requirements and ability.
What's the toughest section?
Overall, we rate Hadrian's Wall Path as easy/moderate in difficulty. It's a well-trodden path underfoot, but there are some steep undulating sections of path between Sewingshields Crags and Greenhead.
Top tip: Take a pair of walking poles to lessen the impact on your knees on these steep hilly sections. You'll be grateful by the final day!
What are the best bits?
The section of Hadrian's Wall Path from Chollerford to Birdoswald (most of which sits within Northumberland National Park) is often considered to be the highlight of the walk. Historical sites are frequently scattered along the best-preserved stretches of wall. On a clear day, you are rewarded with expansive views of the hilly crags ahead of you, while being surrounded by rolling pastoral countryside.
View this post on Instagram
Do I need to pre-book accommodation?
Given that the trail is so popular and some of the villages along the way are quite rural, we certainly recommend pre-booking accommodation for your Hadrian's Wall Path holiday. Absolute Escapes organise accommodation in hand-picked B&Bs, guest houses and hotels located as close to the trail as possible.
Looking for a special stay along the way? Why not ask our Travel Specialists about Premium accommodation upgrade options? A couple of nights at Walwick Hall (near Chollerford) would certainly add a touch of luxury to your walking holiday.
View this post on Instagram
Is there a bag transfer service on the Hadrian's Wall Path?
Yes! Given that it's such a well-established National Trail, various companies provide bag transfer services along Hadrian's Wall Path between April and October. This means all you need to do is lace up your boots, pack up your lunch and set off, and your luggage will be waiting for you at your next destination! Absolute Escapes are happy to add this service to your package.
Can I walk it solo?
You can absolutely take on Hadrian's Wall Path solo! The restorative power of embarking on a solo long-distance hike is undeniable, allowing time for reflection and empowerment after completing such a rewarding achievement.
What's more, the Hadrian's Wall Path is easy to follow and there are usually plenty of other walkers along the way, so we're sure you'll feel safe and secure walking the trail solo. If you're hoping to socialise and meet new people, you'll get the chance to chat with other walkers at your accommodation and evening stops.
View this post on Instagram
How do I get to the Hadrian's Wall Path?
One of the advantages of Hadrian's Wall Path is its easy access. If you're beginning your walk at Wallsend, Newcastle Airport has plenty of international connections. Newcastle is also easily accessible by train, with regular services north to Edinburgh and south to London.
When you finish your walk in Bowness-on-Solway, you can take a local bus or taxi to Carlisle (approximately 15.5 miles). Carlisle has a large railway station with trains north towards Glasgow and south towards London. There are also frequent rail connections to return to Newcastle.
Is the trail easy to follow?
Hadrian's Wall Path is very well maintained, and there are plenty of signposts and waymarkers to keep you on track. As part of your Absolute Escapes package, we will also provide a Cicerone Guidebook & Map bundle, so you can rest assured you'll never be lost.
View this post on Instagram
Can I bring my dog?
The Hadrian's Wall Path poses a couple of challenges if you're looking to bring your canine companion. There are plenty of tall stiles which aren't very well adapted for large dogs, and lots of fields which have livestock grazing. With that in mind, there are sections where your dog will need to be on a lead.
Currently, Absolute Escapes don't offer a dog-friendly package for the Hadrian's Wall Path due to a lack of suitable B&B accommodation. However, our team love dogs and are constantly looking to extend our list of dog-friendly walking trails, so we're certainly keeping an eye on the situation!
View this post on Instagram
Can I walk it in reverse?
Hadrian's Wall Path can be walked in both directions and each year, plenty of walkers complete the walk in either direction. At Absolute Escapes, we tend to prioritise an East-to-West itinerary (the way the wall was originally built), but we are happy to offer reverse itineraries too.
The terrain of the Hadrian's Wall Path varies from mile to mile. There are some areas (particularly the crags on either side of Once Brewed) where there are steep hilly sections of footpath, for which we would recommend good quality walking boots. These will provide plenty of ankle support as well as keep your feet warm and dry in case of showers.
That being said, plenty of the route traverses rolling fields and farm tracks, along with short sections of pavement or road as you approach the larger settlements. For these sections, softer trainers may be more comfortable.
View this post on Instagram
How can I book a walking holiday on the Hadrian's Wall Path?
If you'd like to discover this unmissable walk for yourself, take a look at the itinerary options on our website and make an enquiry! We'd love to make this a reality for you.
Absolute Escapes has been arranging Hadrian's Wall Path holidays since 2008, and it remains one of our most popular trails. Don't believe us? Take it from our clients!
– "Thanks to Absolute Escapes for organising everything and the accommodation was first class we highly recommend this walk for its historical significance and its stunning scenery." – Paddy Kennedy
– "Thank you so much for the excellent organization and bookings you did for us! We enjoyed the hike and especially the superb accommodation you prepared." – Juerg Horni
– "We had an excellent time walking Hadrian's Wall and were very pleased with the service that we received." – Oliver Davie
View this post on Instagram
Daisy Andrews
P.S. If Hadrian's Wall has caught your eye but you're not sure that a walking holiday is your cup of tea, we offer a fantastic self-drive tour of Hadrian's Wall & Northumberland too.