Ireland is renowned for its lush green landscapes, rolling hills, and picturesque vistas. There's no better way to experience its natural beauty than by walking the Wicklow Way.
This long-distance trail takes you through the heart of County Wicklow, also known as the 'Garden of Ireland', and offers a unique opportunity to immerse yourself in the country's stunning countryside.
Having personally hiked across the Wicklow Mountains this summer, I can vouch for the remarkable diversity of landscapes and the sense of adventure that the trail ignites with every step.
Read on to discover everything you need to know about walking the Wicklow Way.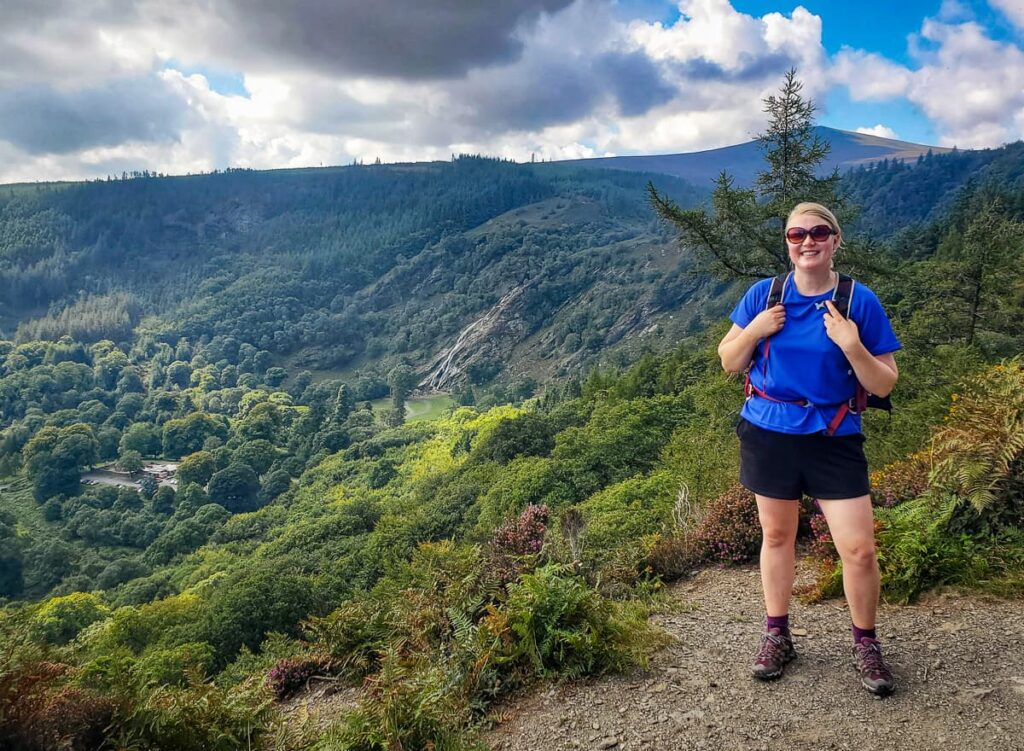 How far is Wicklow from Dublin?
One of the great aspects of the Wicklow Way is that it kicks off right from Ireland's capital city, providing plenty of opportunities to explore Dublin. We would recommend staying an extra night in Dublin at the beginning of your walk to experience the city's vibrant atmosphere, friendly locals, and an array of attractions ranging from historic landmarks to lively pubs.
My first stop was the popular Guinness Storehouse – a must for anyone interested in the rich history and brewing heritage of Guinness. Explore interactive displays, savour a pint of the iconic Irish stout, and take in stunning panoramic views from the rooftop bar. This is an Irish institution with a contemporary flair, and an unforgettable experience for beer enthusiasts.
From here, I walked the short distance to Trinity College, where I joined the campus tour and admired the Book of Kells – one of Ireland's greatest cultural treasures. You can step inside the old library and study the beautifully illuminated mediaeval manuscript crafted by monks in the 9th century, then head to Temple Bar for some traditional Irish folk music.
View this post on Instagram
How strenuous is the Wicklow Way?
Officially, the Wicklow Way covers a distance of 79 miles (127 km), stretching from Marlay Park in the southern suburbs of Dublin to the village of Clonegal in County Carlow.
However, as the trail travels through Wicklow Mountains National Park, extra mileage occurs to link the path with accommodation in local villages. We estimate that you will end up walking closer to 86 miles (138 km) by the time you reach your destination.
This trail is considered moderately challenging for a long-distance walk, so it's important to have a reasonable level of fitness. This is because the route includes some tough terrain and requires you to walk for extended periods of time.
If you're up for the adventure, a rest day can make all the difference, keeping your legs feeling strong. The key thing to note is that the walk covers a range of different terrain, including dense forests, rolling hills, rocky mountain paths, quiet country roads, serene lakesides, and charming villages.
View this post on Instagram
Why choose the Wicklow Way?
There are many reasons why the Wicklow Way is so special. The most important is perhaps the strong connection it forges between Ireland's natural beauty and cultural heritage, hence its reputation as a journey through the 'Garden of Ireland'.
County Wicklow is an incredibly diverse and striking environment to travel through, and with every twist and turn a picturesque village or historic monument adds to the charm of the route. My favourites were the incredible Powerscourt Estate & Gardens and the Valley of Glendalough.
From the outskirts of Dublin, the trail will take you into the heart of the Wicklow Mountains, where the terrain is shaped by rugged hills, glacial valleys and dense forests. Scattered throughout the landscape, you will find meandering rivers, picturesque lakes, and vibrant heather blooms adding bursts of colour. This is a dramatic landscape with sweeping views and a lot of ascent and descent.
Continuing southward beyond Laragh, however, the landscape transitions into a less mountainous terrain with rolling hills, idyllic valleys, and woodland. This stretch of the trail offers a more leisurely and tranquil hiking experience, but also some road walking. The villages along the path are welcoming and offer fantastic dining options in local pubs.
View this post on Instagram
What's the history of Glendalough?
The Wicklow Way leads you directly to the entrance of Glendalough's Monastic City, which traces its origins back to the 6th century when it was established by St. Kevin. Throughout the Middle Ages, it thrived as a centre of Christian worship and learning, marked by the construction of churches, a round tower, and other monastic structures. Today, it remains as a historical and spiritual site, welcoming visitors to explore its well-preserved ruins, earning it UNESCO World Heritage status.
While on the trail, you get the first glimpse of Glendalough from up high amongst the trees from a hilltop viewpoint. The iconic lakes of Glendalough, viewed from an elevated perspective, is a breathtaking sight. A short walk from the ruins will take you to the Upper Lake, where the serene waters mirror the surrounding beauty of the Wicklow Mountains.
View this post on Instagram
Where do I find the Guinness Lake?
One of the most beloved viewpoints on the Wicklow Way is Lough Tay, affectionately known as the Guinness Lake.
Nestled between the mountains of Djouce and Luggala, this glacial lake is a sight to behold with its charcoal-blue waters and pristine sandy beach. When viewed from above, it strikingly resembles a pint of Guinness. As another walker told me, the white sand was imported by the Guinness family, whose estate runs through part of the area, to give the lake its distinctive look.
Here, you'll also encounter the memorial stone dedicated to J.B. Malone, the visionary behind the concept of a long-distance hiking trail through the Wicklow Mountains. His idea ultimately gave birth to the Wicklow Way – Ireland's first official long-distance trail. Malone was an Irish hillwalker, writer, and journalist, who was deeply passionate about inspiring others to go hiking in this stunning area.
View this post on Instagram
Any tips for walking the Wicklow Way?
One of the logistic challenges of walking the Wicklow Way is how best to incorporate overnight stops along the route. Not only do they add extra mileage, but it's sometimes necessary to get a transfer to and from the trail – and perhaps to dinner as well.
The advantage of booking with a company like Absolute Escapes is that we take care of all the arrangements and make sure your daily distances are tailored to your fitness level and preferences, allowing you to fully enjoy the Wicklow Way experience.
If you'd prefer to organise it yourself, then we recommend researching the route in advance and reaching out to accommodation providers to ask for assistance. While the trail is clearly way-marked and straightforward to follow, tapping into local insights and guidance from suppliers along the route is crucial for this walking holiday.
View this post on Instagram
Where are the best places to add an additional day?
Dublin: Soak up the lively atmosphere of Ireland's capital and spend a couple of days under its spell. Visit the Guinness Storehouse, Trinity College and Library, Jameson Distillery, and so much more.
Glendalough: Lose yourself in the monastic ruins, take leisurely walks around the Upper and Lower Lakes, and hike the surrounding trails. It's a place of serene beauty and historical significance.
Enniskerry: Visit Powerscourt Estate with its beautiful gardens, waterfall, grand mansion and whisky distillery. The village has a good selection of pubs with outdoor seating and a welcoming ambience.
Tinahely: Immerse yourself in the peaceful village charm of Tinahely, explore nearby gems like Huntington Castle & Gardens, and embark on a tranquil stroll along the Old Railway Trail.
View this post on Instagram
What footwear should I wear?
As always, the most important criteria is that the boots fit you properly and that you break them in sufficiently before beginning your hike. Opt for a sturdy, waterproof boot with ankle support to navigate the uneven terrain and Ireland's changeable weather. We recommend pairing them with hiking socks and packing blister plasters just in case.
It's worth noting that the second half of the Wicklow Way has a considerable amount of road walking as you travel through the gentler rolling foothills of the south, so you might want to bring a second pair of softer walking shoes to spare your feet. Some hiking boots are also suitable for road walking, but it's worth investigating.
Luckily, all Absolute Escapes walking holidays come with baggage transport, so you can bring different types of footwear without having to worry about carrying the extra weight.
How can I book a walking holiday on the Wicklow Way?
We'd love to help make your Wicklow Way walking holiday a reality. Absolute Escapes have been organising self-guided walking holidays since 2004.
As well as hand-picked accommodation, we can arrange luggage transfers and provide a personalised itinerary with all the information that you will need for your trip.
If you would like more information, please take a look at the itinerary options on our website and send us an enquiry. All of our holidays can be tailored to your specific wishes.
Sine Birkedal Nielsen
P.S. I'd highly recommend the Wicklow Way for your next adventure!
View this post on Instagram